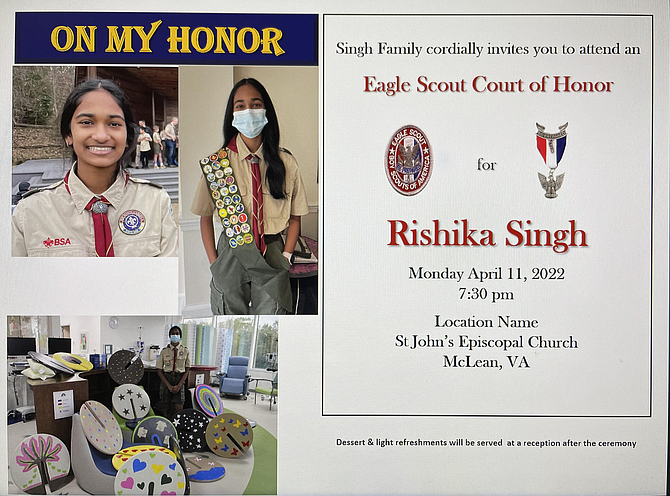 Rishika Singh, a 15-year-old is the first girl to have become an Eagle Scout from Troop 128 and is a freshman at Thomas Jefferson High School for Science and Technology. Scouts from troop 128 both the BT128 (Boys Troop) and the GT128 (Girls Troop) showed their tremendous support in making this project a reality with guidance from adult troop leaders like Mr. Balleisen, Mr. Brooke, Mr. Barre and Ms. Thomas.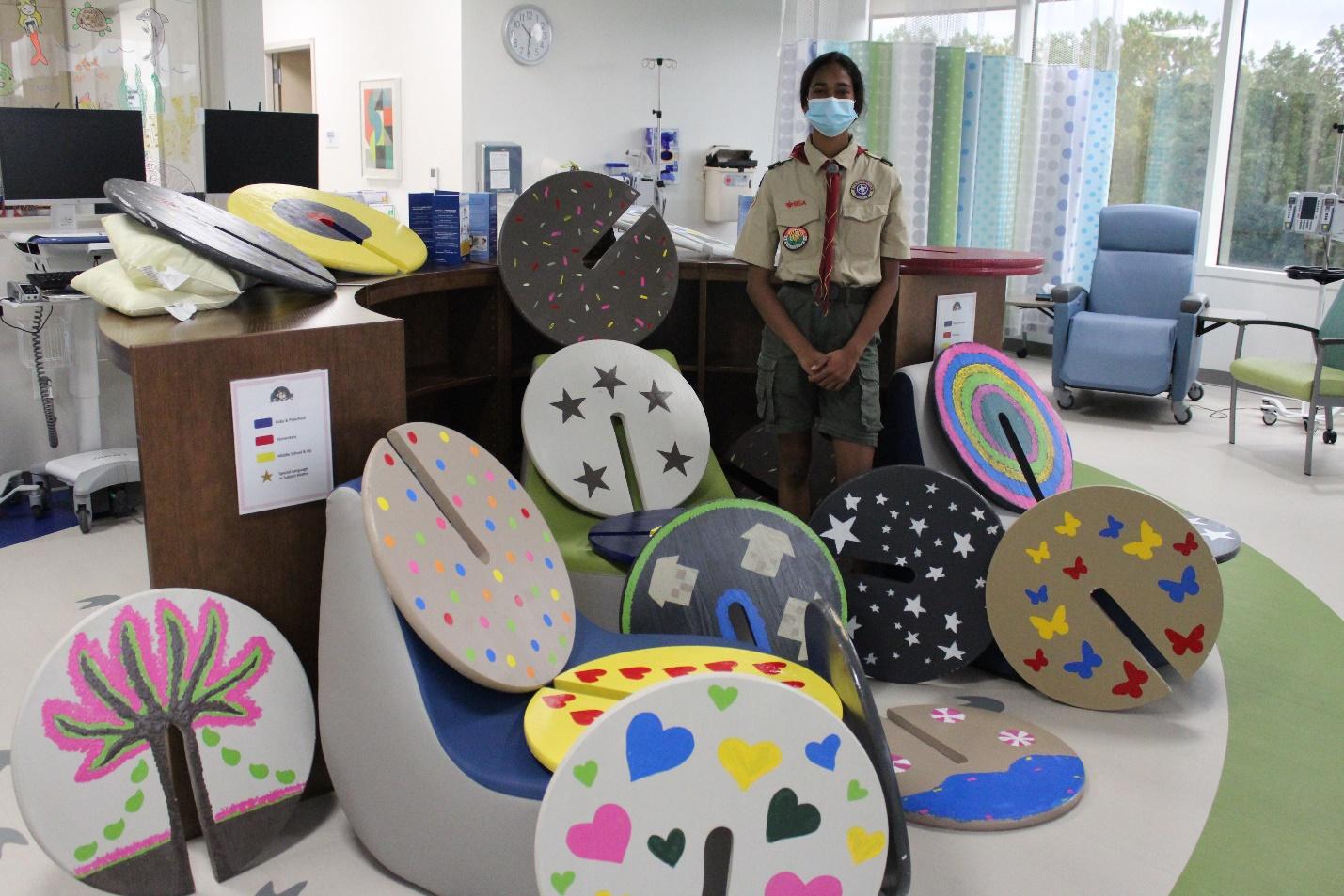 Rishika chose this project as she aspires to be either a cardiologist or Oncologist and serving these patients especially the kids is something that is very close to her heart. She chose, "Ivy lily pads" as her Eagle project for which she reached out to many hospitals in the Washington DC area and finally chose Inova Schar Cancer Institute as her beneficiary.  She setup a GoFund https://gofund.me/211ca6e8 account to raise funds and promote her project. She also plans to deliver a few Ivy Lily Pads each year to local hospitals going forward. 
Lily pads are wooden circular blocks that sit on the base of an I.V. pole and allow children who are tired and are not up to walking on their own to use the pole as a mode of transportation. These kids require transfusions which may take from couple of hours to all day. Nick Konkler from Washington first came up with the idea, Nick designed IV pole lily pads to help little kids fighting cancer. He died before he could make them, but his family and friends at Auburn Riverside High School brought his dream to life. Every year, around the anniversary of his passing, his mom and friends fundraise in his memory. 
Becoming an Eagle Scout is one of the highest accomplishments a young person can achieve. Rishika would join her brother Amrit Raj Singh and enjoy all his cub scout activities without being able to officially join the troop because girls were not included. As soon as they allowed girls to join, she became a member of a very loving group of kids.  
She loves to play sports, especially soccer and basketball. 
Gerald R. Ford, the first Eagle Scout to become President of the United States, once said that the principles "which scouting encourages - self-discipline, teamwork and moral and patriotic values - are the building blocks of character."
To reach the milestone of Eagle Scout takes years of hard work and discipline, culminating in a final project to hone leadership and organizational skills while fostering a habit of community service. Because the idea is to promote the scout's leadership abilities, Eagle candidates are allowed to recruit volunteers to help them complete the projects.