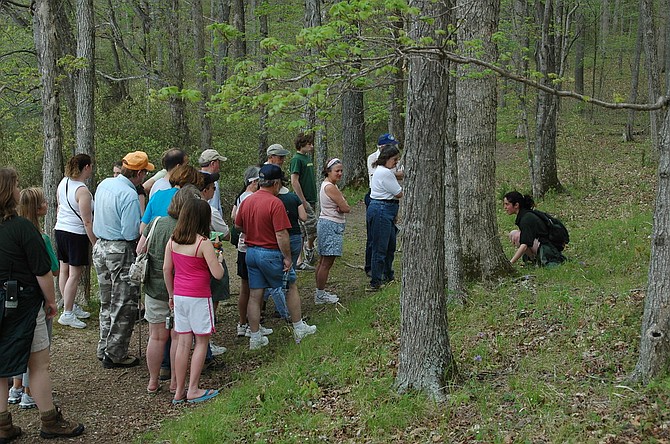 On Saturday, April 30 join Tamara Sheiffer, a Fairfax County Parks nature interpreter, on a nature walk at Turner Farm Observatory Park. Discover the plants and animals that live around you. This family-friendly event is hosted by the Great Falls Citizens Association and the Fairfax County Park Authority. The event is a community outreach program called Watch the Green Grow. https://www.fairfaxcounty.gov/parks/nature-history/watch-green-grow There will be children's activities and a guided nature walk.  Come join the fun.
The walk will coincide with City Nature Challenge, a worldwide challenge for people to explore nature and identify plants and animals. https://citynaturechallengedc.org/ Cities around the world compete for the greatest number of participants, greatest number of species observed, and greatest number of observations. Observations in Fairfax County will help the Washington, D.C. metro area compete against other cities. Participants use iNaturalist, a free app, to take pictures of plants and animals with their phone. The app suggests an identification of the species, and other users confirm or correct the identifications. City Nature Challenge is a fun way to participate in citizen science and begin to learn to identify plant and animal species. 
Tamara Sheiffer will demonstrate how to use the 
iNaturalist
 app to make observations, for anyone who wants to participate in the City Nature Challenge.  Participants may still join the nature walk even without using the app or participating in the challenge.  Children will have the opportunity to learn about plants and animals through games.  All participants will learn easy tips for protecting nature at home.
What:  Great Falls Nature Walk as part of the City Nature Challenge
Where: Turner Farm Park Observatory, 925 Springvale Rd, Great Falls, VA 22066
When: Saturday, April 30th from 10 – 11:30 am
Parking: on site and restroom available