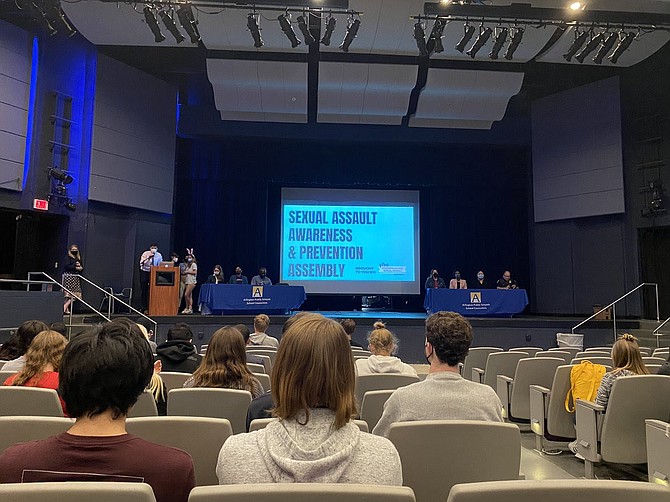 Elizabeth begins, "There is no room left within me; no more space to stuff the tragedy … a constant roller coaster of anxiety. I wish I could stay with it a little longer before returning to the ride."  Embrace Your Voice sponsored by Doorways, Friends of Guest House in Alexandria and the Alexandria Sexual Assault Center, was held Monday evening, poetry focusing on domestic violence and sexual abuse. 
Diana Ortiz, Director of Doorways in Arlington, reflects on the April events for Sexual Assault Awareness and Prevention Month (SAAPM). She says everyone who comes to the Domestic Violence Safe house (emergency shelter) has experienced domestic violence as well as at least half of the women in the Family Home (homeless shelter).
Ortiz says the events to highlight Sexual Assault Awareness and Prevention Month ranged from Wear Teal on April 5 to Washington-Liberty Girls Soccer Pink Games for Doorways, to a poet share held hybrid in-person and online on April 25 at the Alexandria Sexual Assault Center.
"It's amazing, there are a lot more in-person things now. Women are able to do things in the community again. We have more outreach, more in person groups. It feels good to connect again."
Ortiz says the emergency shelter and family home are both full but if someone needs help, "we will always make it work. We don't want to discourage people from seeking support. We don't want anyone in harm's way; we have some flexibility and if necessary we put them in a hotel until we have space." The family home has 10 bedrooms with 22 beds and houses 6-9 families. About 60-80 adults and children in imminent danger are helped each year with safe temporary housing in the emergency shelter. 
She says during COVID there were fewer people seeking help, and sexual assault reports were down. But this doesn't mean there was less domestic abuse. There were stay at home orders, and it was more difficult to tell what was happening behind closed doors. People were afraid to go to the hospital because of possible COVID exposure. But now with things opening up again, assault reports are back up to pre-COVID numbers.
There is one domestic abuse and sexual violence hotline for all of Arlington County for reporting abuse or seeking other assistance such as emotional support. It operates round the clock 24/7 and 365 days a year. The hotline is always manned by at least one person who is a trained advocate. Ortiz says some of the calls are from law enforcement who have the client right there. Other callers may want to report an assault and/or get linked with services.
Some callers want moral support. They may be watching a movie or seeing something on the news that triggers a memory. Ortiz says they may be re-experiencing what happened to them and feel really sad. It may open something they haven't dealt with. 
For instance, she explains the movie star trial in Fairfax has been on the news a lot lately and it may bring back memories.
Ortiz says when a person calls the hotline they may report they did not give consent and don't know what to do. Maybe there needs to be collection of forensic evidence. "We let them know 'we will be with you.'"  She said they put a safety plan in place. "The person may not choose a shelter right away. They may want to get out but don't know how. That's when most homicides happen. It is a very dangerous situation."
Doorways operates an emergency temporary shelter as well as a shelter for homeless families. Ortiz says these residences are always in need of basic supplies such as cleaning supplies that go by quickly with more people, and the need for diapers is high. Other special requests can be found on the Doorways Amazon wish list from time to time or could be dropped off at the office. 
Ortiz says in addition to operating the shelters they run a vigorous prevention program. "We believe the best way to solve violence is to get ahead of it." She explains when people are calling the hotline it might not be their first situation of abuse. Ortiz says, "we want to change the culture where violence is not the only or first option."
The approach is to teach middle school and high school students to know what a healthy relationship with a peer looks like, what are the boundaries, and conflict resolution. The classes and workshops are open to everyone but they particularly target marginalized communities in the LBTG community and serve all genders.
For more information or to offer support contact:  https://www.doorwaysva.org
To reach the violence and domestic abuse hotline: 703-237-0881.