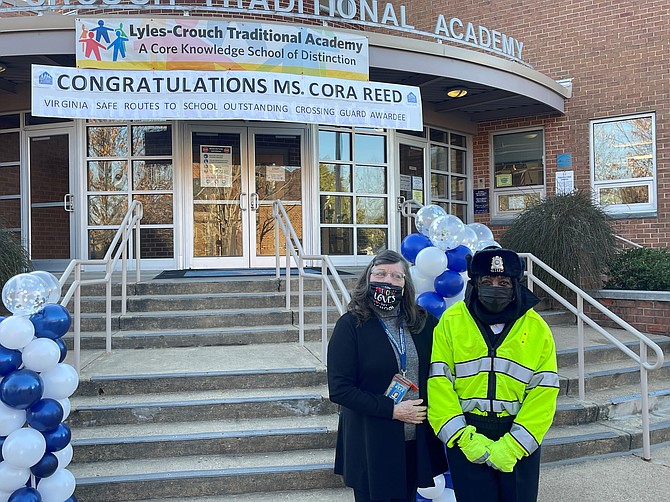 "You are a hero to me."
— Lyles-Crouch principal Patricia Zissios to crossing guard Cora Reed
Cora Reed, a crossing guard in Alexandria for 50 years, was recognized Feb. 9 as one of the top five Most Outstanding Crossing Guards in Virginia by the Virginia Department of Transportation's Safe Routes to School program.
The presentation was made as part of Crossing Guard Appreciation Day in front of Lyles-Crouch Traditional Academy, where Reed is a crossing guard.
"[Cora Reed] is an integral part of the school community and is vital in the drop-off and pick-up process at the school," the school district posted on ACPS Express. "She has a positive and encouraging attitude and is a friend to all."
Lyle-Crouch Principal Patricia Zissios led the ceremony, telling Reed "You are a hero to me."
Reed was showered with cards and well wishes by students, parents and city officials.
"Thank you all for just supporting me," Reed said. "It makes a big difference in the job to know that you're appreciated. Now I'll get out there and work even harder."