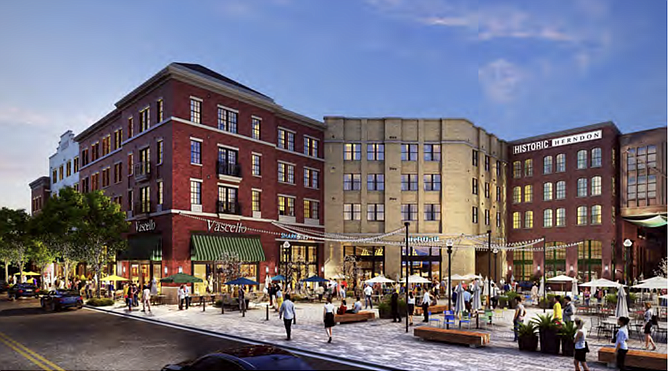 Part of an ongoing series.
The Herndon Downtown Redevelopment Project is "Under Construction," according to the Interactive Land Use & Development Map on the town's website and the town's mayor. 
"The dig is on in Herndon," said Sheila Olem, mayor of the Town of Herndon.
The amended Comprehensive Agreement between the Town of Herndon and Comstock Herndon Venture, LC, effective on Dec. 3, 2020, set a deadline for Comstock to start construction on the project on Dec. 31, 2021. According to the amended Agreement, Comstock had the option to postpone the Outside Satisfaction Date for up to twenty-four months by giving Herndon written notice before Dec. 31, 2021.
"In this new year, the town is thrilled to be moving forward with Comstock to bring this vibrant redevelopment project to reality in our downtown," said a spokesman for the Town of Herndon. "We greatly appreciate Fairfax County's recognition of the value of the project, most recently in the form of the new grant allocation, approved by the Herndon Town Council in December," she added. 
Renamed the Historic Downtown Herndon Revitalization on Comstock's website, "breathing new life into the heart of Herndon," the mixed-use, bicycle-friendly development includes luxury residential units, retail/restaurant spaces, an art center and public arts plaza, and structured parking. It is being developed through a Public-Private Partnership agreement between Comstock and Herndon. The three- to four-story buildings' architecture is in keeping with the town's Heritage Preservation District. Off-street private and public garage parking, streetscape improvements, and outdoor public spaces are all part of the project.
According to its 
website
, "Comstock is at the forefront of the urban transformation of Washington, DC's Dulles Corridor, where its managed portfolio includes two of the largest transit-oriented, mixed-use developments in the Washington, D.C. area, Reston Station and Loudoun Station."