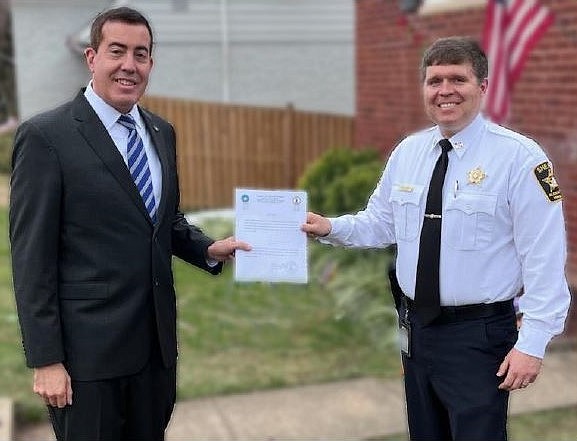 Sheriff Sean Casey officially took the oath of office Dec. 29 at a private ceremony at his 
home in Alexandria. The public swearing in scheduled for Jan. 11 was postponed due to ongoing Covid-19 concerns.
"On Dec. 29 I was sworn in as Sheriff of Alexandria by Greg Parks, Alexandria Clerk of Circuit Court," said Casey in a Facebook post. "I began my term as Sheriff on January 1st. Unfortunately, due to Covid-19 I was not able to do a more formal ceremony, so the front yard had to do. Luckily I had plenty of help."
Casey's wife Amanda and daughters were by his side as he took the oath of office, replacing Dana Lawhorne, who served 16 years leading the Alexandria Sheriff's Office.
"The increase in Covid-19 cases in our region has impacted Sheriff's Office operations and our community," Casey said. "As a result, I need to fully direct my attention and staff resources to the safety and health of Sheriff's Office employees and inmates at the Adult Detention Center. In addition, I want to limit the community spread of Covid-19."
Casey continued: "I'm deeply honored to now serve as the Sheriff of Alexandria and I appreciate the tremendous support I've received from former Sheriff Dana Lawhorne, my family, community members, and many others. But in considering the meaning of my oath, I recognize the need to forgo a ceremonial occasion and focus our complete attention and resources on public safety and health priorities. Although it's a meaningful tradition, a ceremony is not required and I'm confident that the people of Alexandria, including all of you, who have encouraged me throughout my career, will agree that this is the right decision." 
Lawhorne announced his retirement last year after a 43-year career in Alexandria law enforcement.