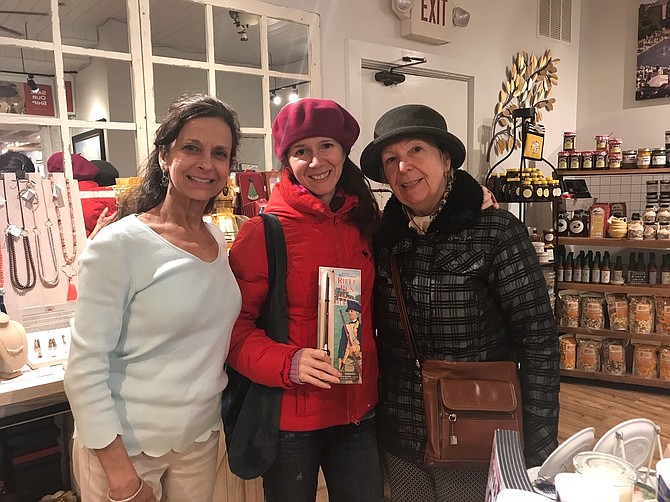 The Old Town Shop, a locally owned gift shop celebrating the historic heritage of Alexandria, is relocating across the street from its present location on S. Union Street.
"We were in 105 S. Union St. for five years and the business has been extremely successful," said owner Valerie Ianieri. "Last year was a record-setting year and the community continues to embrace us. We had a slight downturn during COVID but we stayed open, took all precautions and our business was status quo for 2020."
Ianieri is relocating the business across the street to 104 S. Union St., the former home of Old Town Books, and will open her doors on Jan. 31.
"I searched for a new location for over one year, knowing that with destination retail location is critical," Ianieri said. "Any open spaces are being redeveloped for restaurants, or in the case of 105, the landlord sold the building and the new owners will move in."
The new location is a 600-square-foot space in a building that dates back to the 1700s.
"I rehabbed the space and we will be consolidating our product while redeveloping our online shopping experience," Ianieri said. "Our top sellers are local ornaments, local foods and farmers market items, custom apparel and pineapple-themed houseware items."
"I searched for a new location for over one year, knowing that with destination retail location is critical."
— Old Town Shop owner Valerie Ianieri
Ianieri, a longtime Alexandria resident, opened the shop in March of 2017. Her desire has been to feature local artisan products and celebrate the city's maritime heritage. She commissioned custom designed "OTX" and Old Town Alexandria branded merchandise to promote the history and culture of the city.
"While our new space is significantly smaller, it is exciting to be so visible in one of the most historic, prominent buildings in Old Town," Ianieri added.  "We are directly across the street from our previous location, so the move was relatively easy."
Other categories of merchandise include children's toys, regional history books and custom nautical themed gifts.
"My focus is to preserve and promote the history, creativity and culture of Alexandria locals and the Commonwealth of Virginia," Ianieri added.
www.theoldtownshop.com