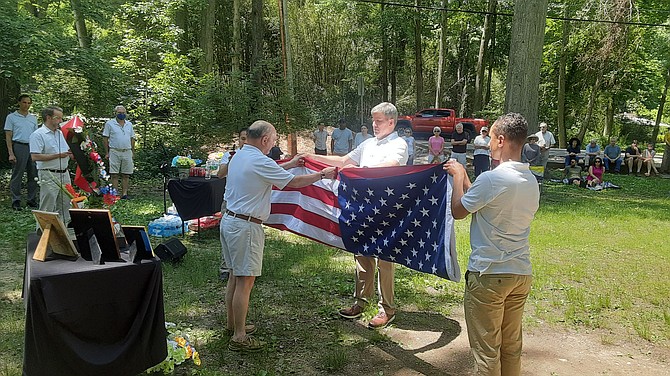 The past year or two has been disruptive around the country, so the residents of Hollin Hills put that away for the time being and got together on Memorial Day to thank the veterans and loved ones that were lost, and remember their blessings.
"Thank you for your service, it matters today more than ever," said Kevin Roberts, an organizer of their second annual Memorial Day tribute in Voigt Park in Hollin Hills. "Someone gave their life so we could have an opinion," he added.
"It's a solemn day," said Patrick Kelly. 
They were among nearly 50 residents who gathered in the neighborhood park with a flag, food, beverages, and a wreath to honor this holiday. Roberts stood at the microphone and spoke about the history of Memorial Day and the way it related to Hollin Hills where a number of veterans live. Last year's event was to honor Arnold Adelman, a 90-year-old resident who flew a B-17 bomber in World War II. He died since then but his memory lives on. "Please remember the work Arnold did," said Kelly.
Supervisor Dan Storck (D-Mount Vernon) attended the ceremony and looked back over the last year and felt that although there are differences among people, the sense of country is bigger. "We've gone through tough times before, now we find common ground that makes this the greatest country in the world," Storck said. Storck looked to the lessons from Abraham Lincoln, one of the presidents he's admired through the years. The Lincoln Memorial celebrated the 100th anniversary this Memorial Day. "He symbolized the best of us," Storck said.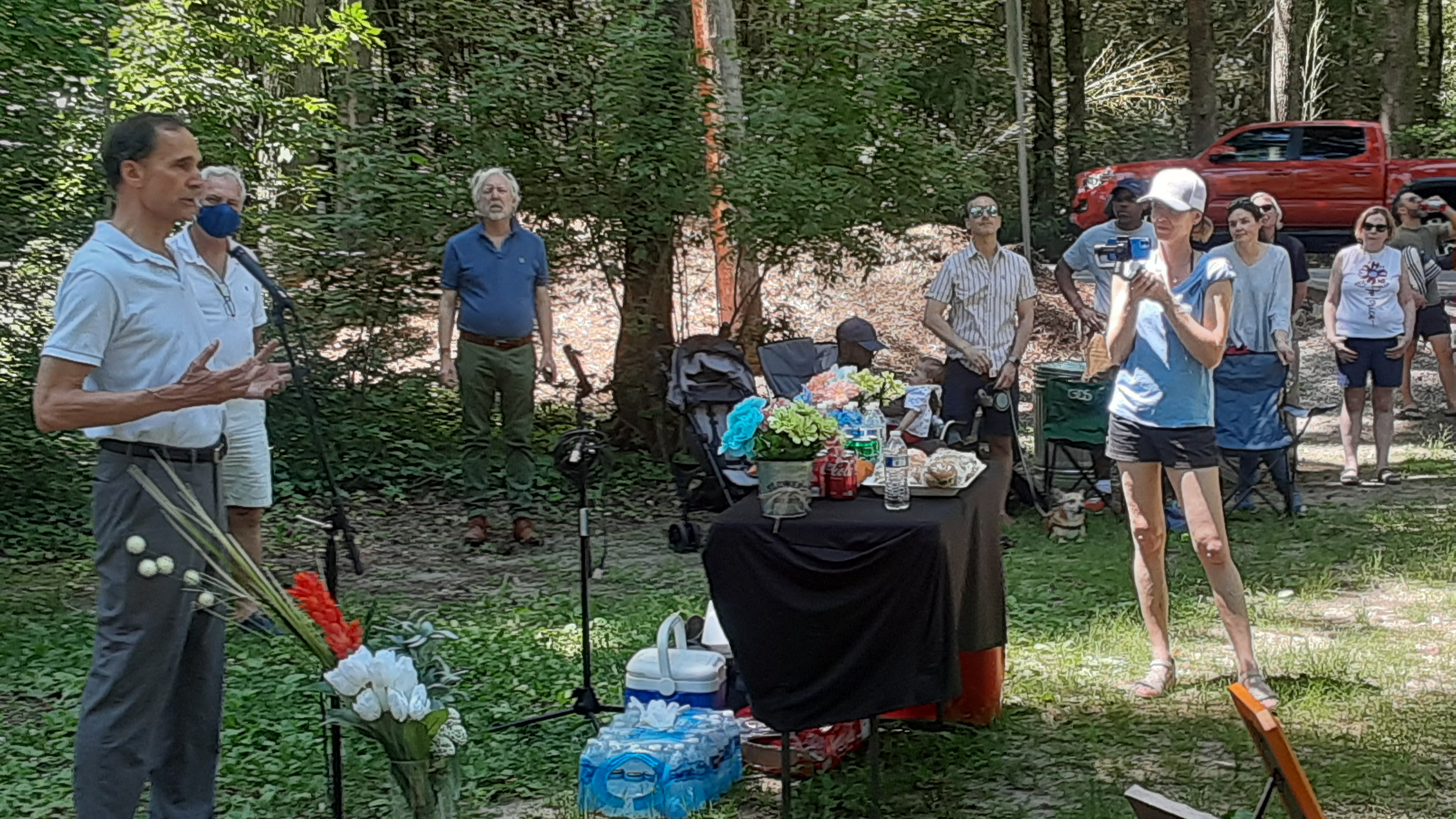 In fact, Storck has a connection with Lincoln that goes beyond the Lincoln Memorial or the pages in history. He looks a little bit like Abe too, and threw on the top hat and beard a time or two and took on the role. The first time was a parade in Old Town. "It started as a lark," Storck said. "I grew a beard and rented a costume," he said. There are facial features that are similar and his overall Lincoln stature has turned a few heads. When he first put on the costume, the costume store clerk was surprised. "Her mouth literally dropped," Storck said.
The Memorial Day ceremony was highlighted by a bouquet of red, white and blue flowers, patriotic music and finally taps, the military tune played on a bugle at funerals. Taps started as a "lights out," song around the bases in the Civil War and evolved into the solemn tune it is today.