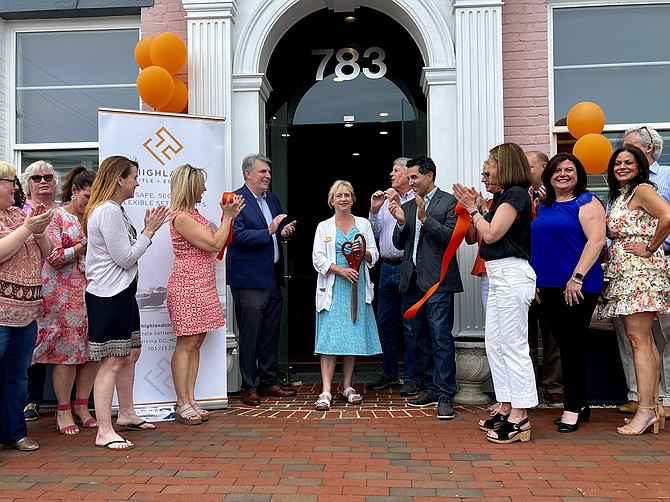 Mike McFarlane, president and chief counsel of Highland Title & Escrow, has long desired a permanent, larger location. McFarlane, a real estate attorney, founded the company in 1999, and it currently employs 42 people in 15 settlement offices throughout Virginia, Maryland, and Washington, D.C. "So, I thought, why not be in downtown Herndon, in the historic district and one of the most remarkable buildings," McFarlane said.
Highland Title & Escrow, located at 783 Station Street in downtown Herndon, celebrated a delayed Grand Opening and Ribbon Cutting on Friday, June 3. The office is located on the first floor of the former National Bank of Herndon building, a brick two-story Classical Revival structure with a 1910 construction date on the pediment and is designated as Virginia Division of Historic Preservation Landmark 235–69.
"We opened our Herndon office a year ago. Like all of you, we have been waiting for COVID to go away before having a Grand Opening celebration... But we decided that this is as good a time as any," McFarlane said. "Many of our key employees live in Herndon [and] three of us can walk to work," he said. According to McFarlane, many people want to live in the little town of Herndon because of the restaurants, activities, and other facilities.
"Congratulations on your first year in business in the town and many more to come," said Mayor Sheila Olem of the Town of Herndon.