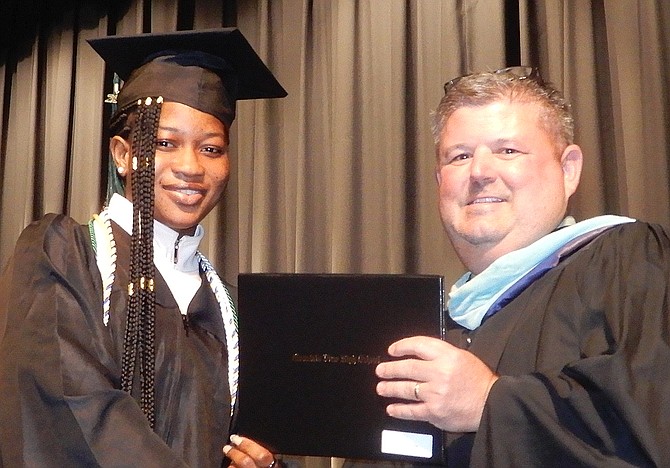 During Mountain View's graduation last week, Principal Joe Thompson thanked the seniors for all the positive contributions they made to the school. He also offered them some words of advice.
He said they've shown "amazing resilience and commitment" en route to receiving their diplomas. "Your Mountain View family has made it our mission to provide a rigorous, educational experience in a warm and caring environment," said Thompson. "And we're proud and grateful to be part of this celebration."
"We challenged you to work for your diploma, and you've earned it. So please take a moment to celebrate yourself, and those that helped you along the way. We hope Mountain View has proven to you how important it is to maintain the values of family, love and respect. In life, getting and keeping anything you value requires not just hard work, but engagement in it, and the resilience to pursue that which you value."  
Thompson said the school's motto of Family, Love and Respect starts with the students respecting their own strengths in reaching this day. "What makes your accomplishments, and those of the staff, even more astounding is the resilience each of you displayed in working through multiple virtual courses, in-person courses and mitigating strategies over the past two-and-a-half years to complete your studies," he said. "That creativity, poise and sense of community will carry you in all aspects of your life."  
"There were a ton of new demands on teachers and students, and we were all learning daily how to make it work," he continued. "The confidence we all had that we were going to find a way to succeed, despite the challenges, is rooted in our value of love. We all fail, but love erases the fear of failure and gives us a sense of belonging and confidence. Love not only permits, but requires, resilience."
Furthermore, said Thompson, "You had to endure a worldwide pandemic on the way to graduation. Had you given up when times seemed most difficult, some would have accepted or even expected it. However, you continued to pursue your diploma and we're proud to see how you bounced back from adversity to make it happen."
He said the seniors set goals and built relationships with people who care about them. "You achieved success during one of the most tumultuous times in our country's history," said Thompson. "Your children and grandchildren will want to know how you managed to live life during this pandemic. I hope you'll proudly tell them about your resilience and how you found the values of family, love and respect at Mountain View." 
Thompson also told the students that graduation isn't their finish line, but the beginning of the rest of their lives. He said the lessons they've learned at school will become even more relevant as they grow, and the relationships they've developed at Mountain View will help them navigate future life challenges.  
"We all live lives requiring us to overcome obstacles and difficulties; they're unavoidable," he said. "When you encounter them, use the lessons you've learned to connect to people who'll help you."
Furthermore, said Thompson, "Please remember the importance of respect. At Mountain View, students come from 14 different schools. That means 14 different neighborhoods – not to mention the many different countries and languages and customs you shared in this building. In your class projects this year, in your online classrooms before that, and in our hallways, you've demonstrated an amazing ability to respect each other as individuals.
"Our communities will grow and improve because of your skills in respecting others. Your generation will ultimately decide how we, as a country, interact with each other in the future. Please take the lessons learned here and teach those around you that respect for others makes your life and theirs better. The current division we see in our country along racial lines – the diminishing of our neighbors based on color, religion or culture – should not be your future."  
Lastly, Thompson told the students to "Never forget you're important, you're valued, and you deserve success. We'll always be here for you, and we want you to stay in touch – that's what families do. Congratulations to the graduating class of 2022 on all your successes today, and those yet to come."