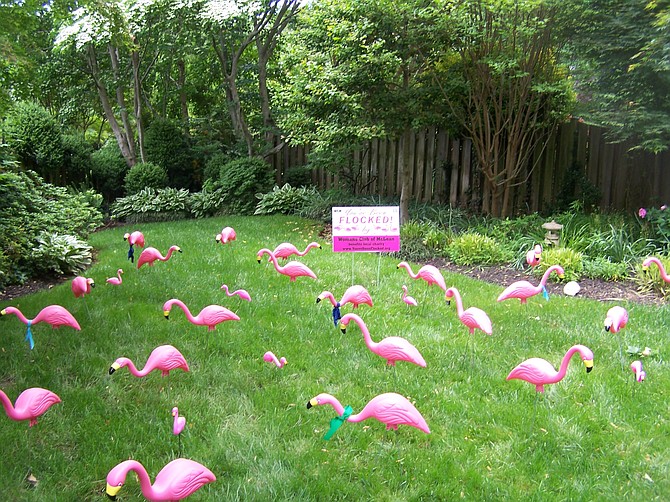 If you see a flock of flamingos in your neighbor's yard, don't be alarmed. They are just roosting there to help the Woman's Club of McLean raise money for local charities.  
The program is called "You've Been Flocked".  Anyone can pay the suggested donation of $80 to have someone's yard covered with pretty, plastic pink flamingos.  If the recipient is out of the McLean area, the donation is $100.00.  When the recipient you flocked wakes up in the morning, they are surprised by all the flamingos in their yard.  There is also a sign that tells them that they have been flocked, along with a nice letter explaining the program.  The flamingos are picked up after 3 days.
Due to the pandemic, the Woman's Club has been unable to have their major fundraiser, The Holiday Homes Tour.  It's been two years without having the much needed funds to help local organizations.  A few of these are:  McLean Volunteer Fire Department, SHARE, Veterans' Transitional Housing, Animal Welfare and Second Story.  So, the flamingos are trying to make up for it.  Great gift idea for graduations, birthdays, anniversaries, etc.
If you would like to donate to have a friend's yard flocked, you may contact Emma Lea Moorman, Asst. Treasurer, WCM, at 703-821-9144.