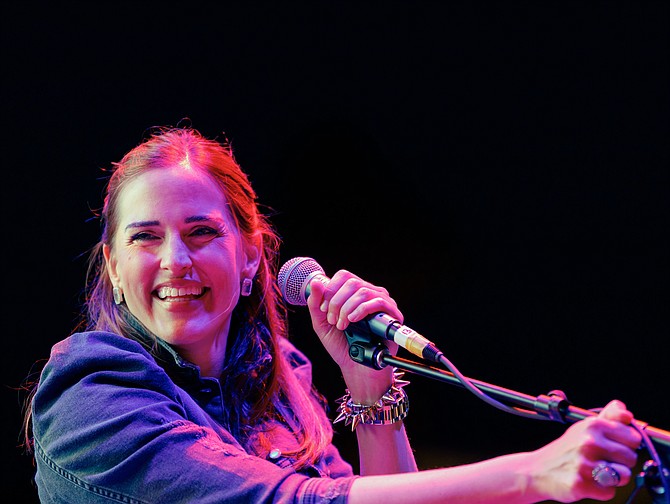 The Bethesda Arts & Entertainment District announces the eighth annual Bernard/Ebb Songwriting Awards, an opportunity for local songwriters and musicians who are residents of Maryland, Washington, D.C., or Virginia. 
The application deadline is Friday, Dec. 9, 2022. 
A Grand Prize of $10,000 will be awarded to the winning songwriter. The Grand Prize Winner will also be awarded 25 hours of recording studio time with Innovation Station Music. The contest also includes a young songwriter (under 18) category for which an aspiring songwriter will have the chance to win $2,500.
"The advice that I would offer to songwriters is to go for it," said 2022 Grand Prize Winner Juliet Lloyd. "Pick songs that mean something to you and don't worry about having to sound a certain way. As a writer and performer, I've often wondered where I fit in stylistically, if my music is "cool" enough to be successful on Spotify, etc. I think you should forget all that and write what is authentic to you, because that's what's going to make you stand out."
The contest, founded by Bethesda resident and arts philanthropist Cathy Bernard, is named in honor of Fred Ebb, Bernard's uncle and renowned American songwriter and creator of Broadway hits such as Cabaret and Chicago and iconic songs including New York, New York.
"This competition was created to honor regional musicians and award local artists for their songwriting talent," said Cathy Bernard. "I am personally honored to be able to support this important program in my uncle's name because the musical arts were such an integral part of who he was and it's of great importance to continue honoring creativity and aspiring songwriters."
The contest will be a multi-staged, juried competition. The first round judging panel will include professional artists, venue operators, booking agents, and music academia. They will choose the semifinalists from the total pool of applicants. A grand prize jury will then select the finalists who will perform their original songs during the concert on Friday, April 21, 2023 at the Bethesda Blues and Jazz Supper Club. Each finalist receives $500 for performing at the concert. The award winners will be announced at the close of the show.
All musical genres are accepted. Songs must include lyrics and cannot be more than four minutes long. Musicians can apply online or download a mail-in application at Bethesda.org.
Previous winners have included (grand prize and youth winner): Juliet Lloyd of Takoma Park, Md. and Marian Hunter of Alexandria, Va. in 2022; Heather Aubrey Lloyd of Owings Mills, Md. and Emily Mitchell of Gaithersburg, Md. in 2019; Rochelle Rice of Washington, D.C. and Skyler Foley of Burke, Va. in 2018; Lea Morris of Alexandria, Va. and Calista Garcia of Arlington, Va. in 2017; Justin Jones of Arlington, Va. and Maddy Clark of McLean, Va. in 2016; and Owen Danoff of Washington, D.C. and Lexi Peto of Warrenton, Va. in 2015.
Tickets to attend the eighth annual concert will be available January 2023 at www.bethesda.org.
Visit 
www.bethesda.org
 or call 301-215-6660 for more information.