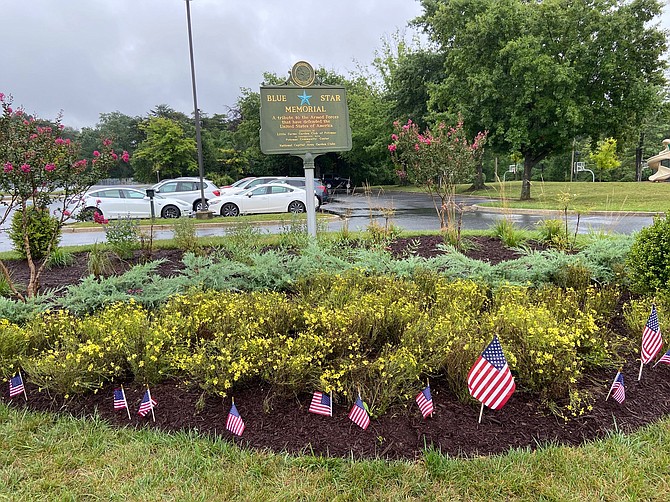 Sept. 11, 2022 saw the re-dedication and celebration of the renovation of the Blue Star Memorial Garden at the Community Center in Potomac. This garden was originally installed 15 years ago under the leadership of Linda Sillin and Jean Mullan, but needed a "refresh." The Blue Star Memorial is a tribute to our armed forces past, present, and future, honoring those who have defended the United States. This memorial is only given by the Federation of Garden Clubs of America, to be situated in national cemeteries, parks, veteran's facilities and gardens. During WWII, the Blue Star was used on flags and placed in windows to denote a service member serving in the military. In 1945, a national program was initiated. Fifteen years ago at the time of the original installation of the Potomac garden, there were approximately 300 Blue Star Memorials and highway markers in the country. Today there are 3000. 
In addition to the funds raised by Little Farms Garden Club members, there were generous donations from the Walter Reed Society, which provides patient and family support for service members, including the Wounded Warrior Program, and Stock Brothers, Inc, an 89-year old landscaping business. John Stock envisioned, designed and planted the garden.
At the official ribbon-cutting, President Sandy Lavery, opened the program by noting that Little Farms Garden Club has had a long, rich history with the Community Center. For the club, the garden is a way to reach out and contribute to the larger community. This was followed by a history of the original installation of the garden in 2005 by Linda Sillin.
Past President, Tricia Olsen, who spear-headed this initiative, emphasized the power of community partnership to get significant projects done. She noted that there was no better place for the Blue Star Garden than at the Potomac Community Center, where people come together to learn, play and make new friends. The Community Center is an anchor and key symbol in Potomac of belonging and togetherness. 
"I know the garden will ask people to pause, be curious, and venture over … to enjoy … and to remember how very fortunate we all are to have the security and protection that our service members provide. I also know our efforts will send a message to others in our community, that public service is a way to demonstrate the love we have for our country, and Potomac."
The program concluded with a Patriotic Moment from Jean Mullan, who asked attendees to pause and honor our veterans and those who died in 9/ll, twenty-one years ago. "We grieve loss, but are inspired by their dignity, loyalty, and bravery." 
After listening to "America the Beautiful", the official ribbon cutting was held and American flags were placed in the garden.
— Tricia Olsen, Past President