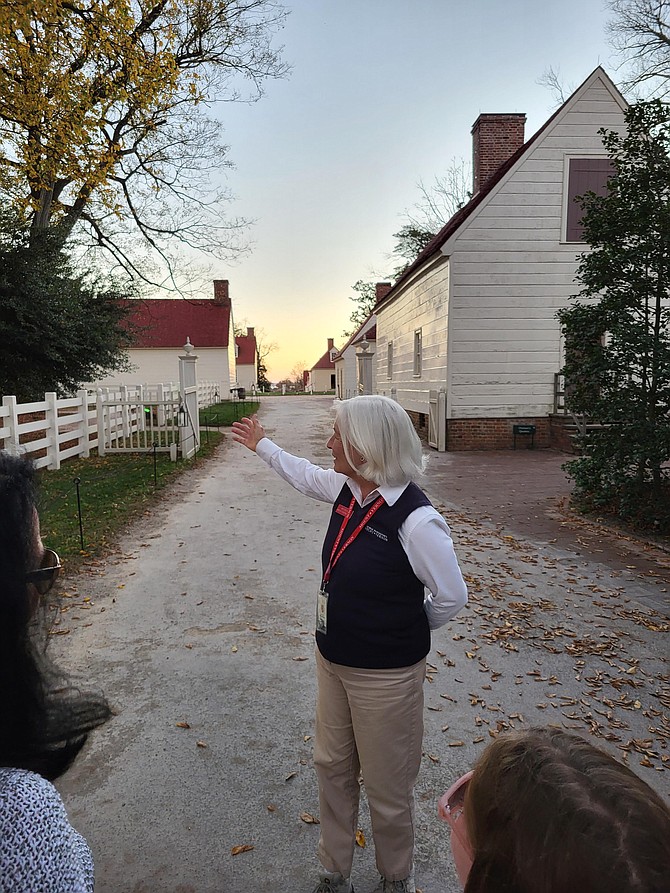 In 1772, the tension was building around the Mount Vernon plantation as England clamped down with taxes and rules that pushed George Washington to the limit, although in that year, he was still loyal to the crown. Tension was growing though, and this is a main topic of the Candlelight Tours, which start on Nov. 25 and host hundreds of people until the third week of December.
Betty Brown is one of the historic interpreters that leads groups on the tour. The interpreters deliver explanations throughout the tour but each seems to have a colonial justification for the revolutionary war with England. "Learn about the build-up to Revolution as we celebrate the 250th anniversary of the year 1772," the program description states.
They go on to explain that a ship full of sugar and molasses was sunk just offshore from the 13 colonies. "Many historians consider that the first hostility of the war," said Betty Brown, a historic interpreter who leads groups from house to house. Early in November they did a dry run to perfect their narrations, watching the timing and delivery of the tour. "Back then, Christmas traditions were a lot different than they are now," she said.
The tour starts at the gate and finishes in the mansion where the actual bed that Washington died in at age 67 is still in the master bedroom. George Washington was given the plantation when he was 22 years old, and he was married at age 26. In 1772, he was 40 years old and a slave owner. All of the original 13 colonies depended on labor of enslaved people.
In one building, "Lucy," portraying an enslaved woman, was cooking and she described the menu and how she learned everything about cooking from her mother. "Us in the house, we only get time off to spend with our families," Lucy said.
There were other stops with James, a family friend who was pro-English rule; Henry Lee II, an enslaved man; "Frank Lee," and Mrs. Washington who said "the 12th night is very special to the Colonel and I." After the historic interpreter's narrative tour, patrons are free to visit the blacksmith shop and the quarters for the enslaved people, and sing carols.
One guest that is brought in for the Candlelight Tour is an actual camel which is kept on the grounds for a few weeks.
Mount Vernon by Candlelight will run Nov. 25-26, Dec. 2-3, Dec. 9-10, Dec. 18.
Members: $26 adult, $18 youth
Non-members: $36 adult, $28 youth
703-780-2000
tickets@mountvernon.org