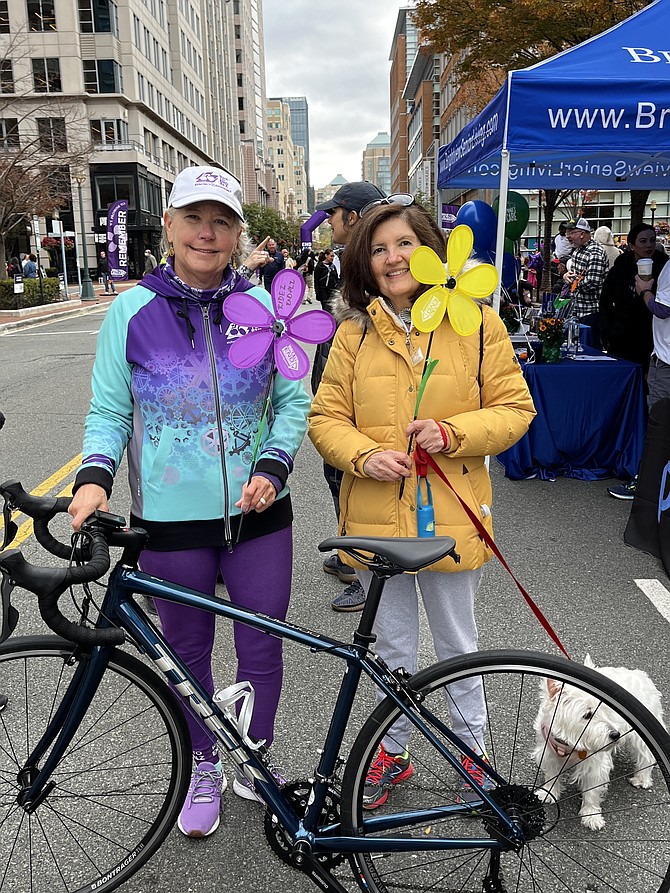 On Sunday, Oct. 23, more than 800 people turned out at Reston Town Center for the Alzheimer's Association National Capital Area Walk to End Alzheimer's. Nearly everyone held one or more of the four color-specific Promise Garden flowers. Madeline Davis held a white flower. Her mother, Holly, lost her battle with early-onset Alzheimer's on Jan. 27, 2022. She was 59. 
"My mother was diagnosed in 2016 at the age of 54. She was my idol and my best friend," Davis said. 
The flower colors represent a person's connection to Alzheimer's Disease. An orange 
flower meant that the person was a supporter of the cause. A yellow flower meant that the person was currently helping or caring for someone with Alzheimer's. A purple flower told that the individual had lost someone to the disease, and a blue flower, like the one Maureen Kalenich held, meant that the person was living with Alzheimer's or another dementia. The white flower is the promise that someday, there will be a cure.
The Alzheimer's Association is working to end Alzheimer's and other dementias worldwide through research, efforts to reduce risk and get an early diagnosis, and getting the most out of treatment and support.
According to U.S. Rep. Gerry Connolly (D-11), who spoke at the Walk to End Alzheimer's, research and funding to support it are essential. "Alzheimer's disease is now the sixth leading cause of death in the United States. It is also the fifth leading cause of death among adults 65 or older. The necessary resources must be provided to help tackle this growing issue before it reaches crisis level," he said.
Tracy Cheifetz of Centreville is the captain of Team Amy's Army. Tracey's mother, Amy Shimkus, died from Alzheimer's in March. "She participated in the trials and knew that they would not help her but might help others someday," said Tracy. At the 2018 Walk to End Alzheimer's, Amy was photographed dancing YMCA. This year, the team raised $11,846.
Connolly said, "It is critical that the necessary resources be provided to help tackle this growing issue before it reaches crisis level." Connolly's grandmother was diagnosed with Alzheimer's when he was a young man. Aware of the toll it took on his family, Connolly added that he tries to do all he can during his time in public service wanting to make sure that "no family has to go through a similar experience without the tools and support necessary to make that experience manageable, however painful it may be."
Connolly said they secured $25 million to implement infrastructure for the 2018 Alzheimer's Act and $289 million for research at the National Institute of Health (March 2022), among other actions. "It is imperative that we begin treating Alzheimer's as a public health crisis," he said. "There will be 71 million people aged 65 years or older in 2030." According to Connolly, increased legislation is a step in the right direction, but real progress won't be made until serious funding increases to enable scientists to understand the disease better.
According to the Alzheimer's Association Report 2022, the U.S. Food and Drug Administration has approved five medications: donepezil, rivastigmine, galantamine, memantine, and memantine combined with donepezil for treating Alzheimer's. They temporarily alleviate symptoms but do not affect the underlying Alzheimer's brain changes or disease progression. 
Event emcee Adrianna Hopkins, a WJLA anchor, and reporter, announced that the association is investing over $310 million in more than 950 projects in 48 countries for research to end Alzheimer's, "and we're seeing the results." Hopkins referenced a report from the NIH, the National Institute on Aging, calling it "amazing progress that could mean more time for those facing Alzheimer's."
According to the NIA statement on report of lecanemab reducing cognitive decline in Alzheimer's clinical trial, Oct.3, 2022, Richard J. Hodes, M.D., Director, National Institute on Aging, National Institutes of Health, "Pharmaceutical companies Eisai and Biogen recently announced data for a phase 3 Alzheimer's disease clinical trial. The results show that lecanemab, an anti-amyloid antibody, slowed the rate of cognitive decline by 27 percent in an 18-month study involving participants experiencing the early stage of Alzheimer's."
Ultimately, the disease's pace and length depend on age, genetics, biological sex, and other factors.
Michelle Alonso is the Alzheimer's Association Ambassador to Connolly's office and a volunteer on the Latino Outreach Committee. Her grandmother and father died of Alzheimer's. It and other forms of dementia disproportionately affect older Black and Hispanic Americans. According to Alonso's family has participated in the Walk to End Alzheimer's since 2015.
"My dad died that year of younger-onset Alzheimer's at the age of 67. We fundraise and walk in hopes that one day we will have our first survivor of this awful disease," she said. 
Alonso said the ENACT ACT (S. 1548/H.R. 3085), co-sponsored by Connolly, would increase the participation of underrepresented populations in Alzheimer's and other dementia clinical trials. "This important legislation would expand education and outreach to these populations, encourage the diversity of clinical trial staff, and reduce participation burden, among other things," Alonso said.