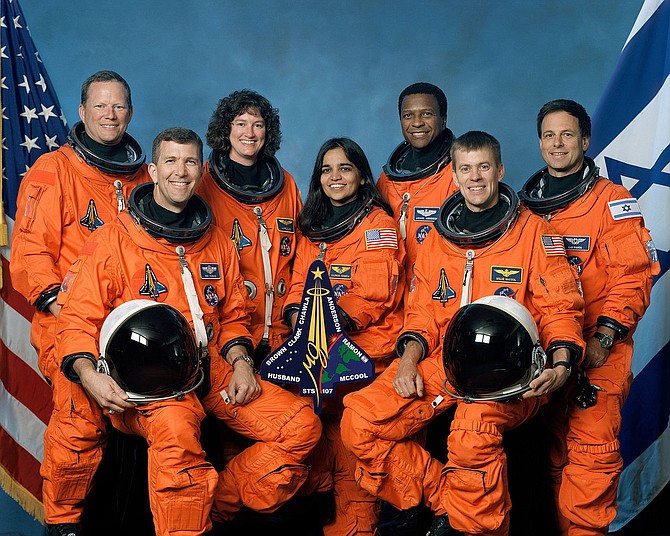 ARL Connection
Columbia space shuttle 20th
David Brown was just 16 minutes from home. As a mission specialist aboard the Space Shuttle Columbia, the Arlington native was going through final landing preparations aboard STS-107 to conclude what for more than two weeks had been a routine mission.
But at 9 a.m. on Feb. 1, 2003, that changed when Columbia began its reentry into the Earth's atmosphere, disintegrating over the skies of Texas just minutes from its planned Florida touchdown.
"I'll never forget the tears in my father's voice when he called to tell me to turn on the TV," said local resident Col. Nathan "Chili" Lindsay Jr. (ret), whose father, the late Gen. Nathan Lindsay, was the 45th Air Force wing commander during the Challenger tragedy. "Dad rarely cried but I knew he was reliving the Challenger incident."
Feb. 1, 2023, marks the 20th anniversary of the Space Shuttle Columbia disaster, the third date in less than a week of three tragedies that claimed the lives of 17 astronauts: On Jan. 27, 1967, three astronauts were lost in the Apollo 1 launch pad fire and on Jan. 28, 1986, the Space Shuttle Challenger exploded on take-off, killing all seven astronauts on board. In all three accidents, investigators found human error played a role.
Because of the clustering of these three dates, NASA sets aside the last Thursday of every January as a Day of Remembrance to commemorate its fallen astronauts.
Brown was born and raised in Arlington, attending McKinley Elementary and Swanson Middle schools before graduating from Yorktown High School in 1974. He received a BA degree in biology from the College of William and Mary in 1978 and a doctorate in medicine from Eastern Virginia Medical School in 1982.
"Gemini is what I remember growing up with, then certainly Apollo," Brown said in one of his final interviews prior to the mission. "I thought that was the coolest job you could ever have but I couldn't see the path there as a normal kid."
A U.S. Navy Captain, Brown was a first-time astronaut aboard the Columbia. He was also an aspiring filmmaker who recorded hundreds of hours of the training process for the fated crew, which included Commander Rick Husband, pilot William C. McCool, Payload Commander Michael P. Anderson, Mission Specialists Kalpana Chawla and Laurel Clark, and Payload Specialist Ilan Ramon.
"Dave knew that the chance of not coming back was significant," said Brown's older brother Douglas Brown in the 2009 documentary "Astronaut Diaries," which was made featuring his brother's film work. "Hence when he did his last email, he wrote it with the thought that it could be a distinct possibility."
Brown, son of the late Arlington County Circuit Court Judge Paul D. Brown, was laid to rest at Arlington National Cemetery alongside Columbia crewmates Laurel Clark and Michael Anderson. He was posthumously awarded the Congressional Space Medal of Honor. Additionally, the Arlington County Planetarium was renamed in Brown's honor on Feb. 1, 2008, five years after his death.
"Dave knew that the chance of not coming back was significant."
— Douglas Brown, brother of Columbia astronaut David Brown
"It's hard to believe that it is coming up on 16 days and we land tomorrow," Brown wrote in what would be his final email to his family. "The views are really beautiful. My crewmates are like family. It will be hard to leave them after being so close for two-and-a-half years. I will make one more observation. If I'd been born in space I know I would have a desire to visit the beautiful earth more than I ever yearn to visit space. It is a wonderful planet."