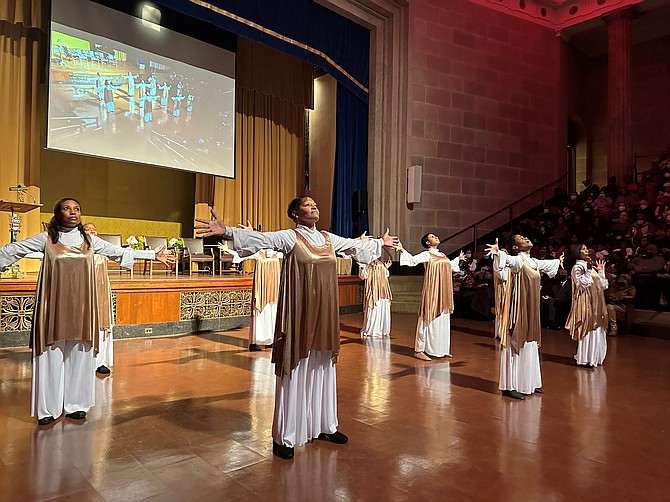 A standing room only crowd was on hand as the City of Alexandria hosted the 50th annual Martin Luther King Jr. Commemorative Program Jan. 15 at the George Washington Masonic National Memorial.
"Today is about remembering and celebrating the legacy of Dr. Martin Luther King Jr.," said 92-year-old Lawrence "Robbie" Robinson, an original member of the planning committee who grew up during segregation. "People need to remember who Dr. King was and how his work changed lives for generations to come."
First started in 1973 and hosted by Alexandria's Martin Luther King Jr. Memorial Planning Committee, the event celebrated 50 years of honoring the life and legacy of King, which began a decade before President Ronald Reagan signed a bill in 1983 recognizing the birthday of the Civil Rights icon as a national holiday. 
The program opened with the traditional Procession of Faiths by clergy representing Alexandria's faith community. Elder Joshua Bullock of the Redeemed Church of Our Lord Jesus Christ led the invocation followed by the singing of "Lift every Voice and Sing" by the Men's Choir of Shiloh Baptist Church.
"People need to remember who Dr. King was and how his work changed lives for generations to come."
— Lawrence "Robbie" Robinson
Two Alexandria City High School students who participated in last year's city-sponsored pilgrimage to Montgomery, Ala., spoke of their experiences on the trip.
"One of the hardest days of this trip for me was the visit to the National Memorial for Peace and Justice," said Ariana Singleton. "As we walked into the memorial we saw images of generation after generation of African Americans being beaten down physically, mentally and emotionally. I saw the pain endured over generations."
Singleton broke into tears as she recalled seeing pillars with the names of lynching victims from across the country, including one from South Carolina that bore her family name.
"It was especially painful for me seeing a pillar with my last name on it," Singleton said of the pillar representing a victim from the town where her father's family originated. "I realized that one of my ancestors was most likely a lynching victim and I wondered how Dr. King and all of these people could have walked so peacefully, knowing the violence they were facing."
Added fellow student Delvin Jalon Reed, "Going to Alabama there was a definite divide between the Black Student Unions and the theater students. Everyone stayed in their little bubbles but as we walked through the different museums and monuments a bond truly solidified as we shared our emotions and processed what we were learning. In that moment we all realized that at the end of the day we aren't that different."
Rosa Byrd was chair of the event that included a panel discussion on the King Center for Nonviolent Social Change 2023 theme of "It Starts With Me." Entertainment interludes were provided by The Yellow Door Concert Series Ensemble, who performed to a backdrop of Civil Rights images, the Liturgical Dance Ministry of Alfred Street Baptist Church, and a surprise performance by the Ethiopian Cultural Dance team.
Mayor Justin Wilson also referenced the pilgrimage in his remarks.
"For many of us who are in this room today, this event is a little more poignant than it is every year," Wilson said. "Many of you went with us on the pilgrimage to Montgomery, Ala. That was a powerful weekend as we got to follow in the literal footsteps of Dr. King, Congressman John Lewis, Rosa Parks – so many martyrs for the movement. But far more important than being in those spaces, we were able to see the work that we have ahead of us." 
Wilson continued, "Being here is important but now we need to do the work to continue to transform these unjust systems. We need to do the work that Dr. King not only wanted us to do so many decades ago but wants us to do continuing today."
The Liturgical Dance Ministry of Alfred Street Baptist Church and the Men's Choir of Shiloh Baptist Church closed the program with a stirring performance of "We Shall Overcome."
"I realize now that Dr. King was marching not for himself but for so many other people," Singleton said. "He was marching for the generations to come. He was marching for me and everyone in this room so that we can live in a world where we will not be separated by race or gender. Because of Dr. King, the only thing that separates us today is our own mindset."
The 50th anniversary Martin Luther King Jr. Memorial Program can be viewed at www.alexandriava.gov/museums/martin-luther-king-jr-memorial-program