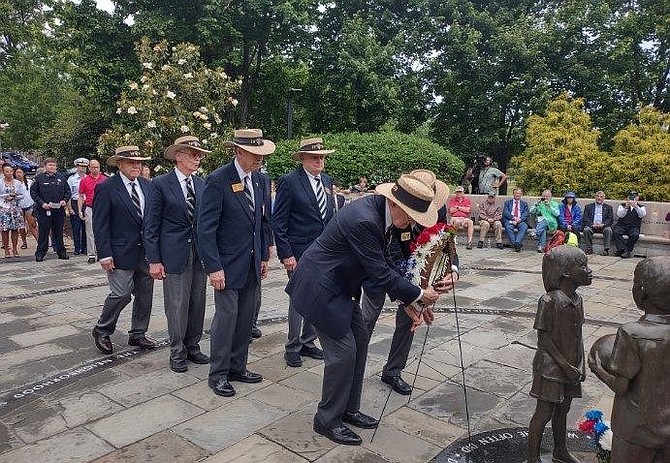 Alexandria paid tribute to its fallen veterans May 29 with a Memorial Day ceremony at the Captain Rocky Versace Plaza and Vietnam Veterans Memorial in Del Ray.
The names of Alexandria's 68 fallen and missing in action service members from Vietnam were read aloud as part of the annual ceremony at the site named for Medal of Honor recipient and Vietnam POW Humbert Roque "Rocky" Versace.
The ceremony included a wreath laying by members of Versace's West Point class of 1959 and was attended by several Gold Star family members, including Bette Spengler Meuleners, widow of Capt. Henry Spengler, Curtis Versace, sister-in-law of Rocky Versace, and James Spengler, brother of Capt. Henry Spengler and Chief, Alexandria's Recreation, Parks & Cultural Activities Department.
Kevin Rue of the Friends of Rocky Versace served as emcee and shared an email he had received just one day prior to the ceremony.
"The Friends of Rocky Versace received an email message yesterday out of the blue from a book collector in Albuquerque, New Mexico," Rue told the crowd. "I thought it would be appropriate to share a portion of what was written in that note."
Rue shared the words of the collector, Alice St. John.
"A few weeks ago, I pulled from a box an annual, with a beautiful cover and quite heavy. The Howitzer, 1956. I'm kind of a military history buff, so I immediately began to turn through the pages of this West Point annual. As I looked through the annual, at all the handsome faces of these young men, I began to wonder how many of these young officers were soon to go off to Vietnam. I wondered how many of them came back, and just how many didn't.
"As I closed the book, a name in gold lettering at the bottom of the front cover caught my eye: Humbert R. Versace (Rocky). Out of idle curiosity and given my penchant for researching various topics which catch my interest, I did a quick internet search. I don't know what I was expecting to find, really. A name on the Wall, maybe, or something that I might learn about the man to whom this annual once belonged.  I was not prepared for what I learned about Humbert R. "Rocky" Versace on that day.
"Website after website after website, article after article after article about Rocky and his incredible heroism while in captivity in Vietnam. I just sat at my desk and sobbed. How could it be that I had in my hands, the West Point annual for a Medal of Honor awardee?  How could it be that this beautiful book was sitting in a box on the floor, surrounded by 100 other boxes of books?
"I thought it would be fitting to reach out on Memorial Day weekend. Rocky is on my mind very much this year."
According to Rue, St. John will be donating the yearbook to the Friends of Rocky Versace for display at the Mount Vernon Recreation Center.
"It has been such an honor and privilege to have had this come into my possession," St. John added. "For the past few weeks, it has been proudly displayed on the top shelf of my bookcase, facing outwards, so that I can be reminded of the man for whom 'Duty, Honor, Country' meant so much. I recently ordered a memorial POW bracelet with his name engraved. I wear it every day."
Other Gold Star family members in attendance included: Susan Lily Harvey, sister of 1LT Lawrence E. Lilly, MIA; Earl Valentine; brother of PVT Jeron F. Valentine; and Clare Ericson Barkovic, widow of 1LT William F. Ericson - a USMA 1968 classmate of CPT Henry Spengler.
"Rocky Versace and Alexandria's 67 other Vietnam War Fallen Heroes are on our minds this Memorial Day. They are not forgotten."
— Kevin Rue, Memorial Day 2023
Carolyn Weinroth, former Miss Northern Virginia, opened the ceremony with the National Anthem followed by the Pledge of Allegiance led by members of the St. Rita American Heritage Girls Troop 1381. Bugler Lt. Col Steve Tracy (ret.) closed the ceremony with Taps.
"Capt. Rocky Versace is the U.S. Army's only Medal of Honor recipient from the Vietnam War whose remains have not been recovered and returned," explained Rue. "Rocky Versace and Alexandria's 67 other Vietnam War Fallen Heroes are on our minds this Memorial Day. They are not forgotten."