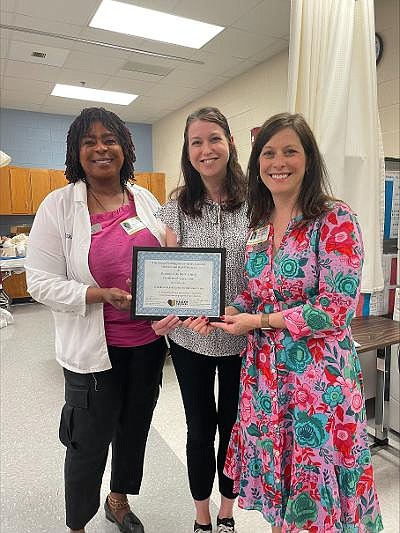 Alexandria City High School students are joined by instructors as part of the Woodbine Rehabilitation and Healthcare Center's work-based CNA learning program May 11. Pictured are graduates (back l-r): Florence Debra, LNHA, RN; Myla Murphy; Maya Ortega-Solares; Maryam Mohamed; Donna Shaw, LNHA, 
Dr. Laura Evans, Alexandria City High School Health & Medical Science CTE Lead, presented a Certificate of Appreciation to Woodbine Rehabilitation & Healthcare Center on behalf of The George Washington University School of Medicine and Health Sciences & Alexandria City Public Schools in recognition of Woodbine's partnership in expanding work-based learning opportunity to students.
Director of Nursing Florence Debra, a 1992 graduate of the Alexandria City High School LPN program and Administrator, Donna Shaw, accepted the certificate on behalf of Woodbine on a visit to congratulate this year's graduating class of Clinical Nursing Assistants. Alexandria City High School and Woodbine have partnered in the clinical rotation for health students for over 25 years.