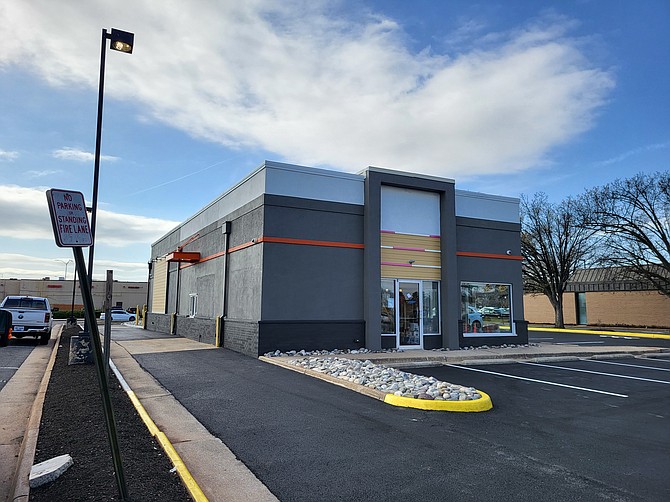 In a restaurant site where a Kentucky Fried Chicken once dished out buckets of fried chicken, crews are putting the finishing touches on the site that will house a Dunkin Donuts and Baskin Robbins Ice Cream in central Springfield.
The Dunkin Donuts is being relocated from a corner location a block away that has been a Springfield favorite for years. The aging building on the corner of Commerce Street and Brandon Drive will no longer be dishing out donuts when the new location opens.
The refurbished building is just off busy Backlick Road, a block south of Mike's American Grill that recently reopened after a Valentine's Day fire closed the restaurant for a few days in February. Also in the immediate area is a McDonald's, Bob and Edith's, a sub shop and the Paper Moon – a "Gentlemen's Club" which specializes in burgers and steaks with live entertainment. There are a variety of food types available as well so there's no shortage of eateries in this area.
This part of central Springfield has been "rebooted," a couple of times in an attempt to bring a fresh look to the area. A few blocks away is a new transportation center that is near completion, a new Giant Food, and a space where the Whole Foods is rumored to be moving, and the Trader Joe's that is relocating. There will be fresh façade's all around and a fresh look to this aging area.
The Dunkin Donuts will have a seating area and a drive through window that will cater to the commuters who can jump right off northbound Backlick Road and grab a bite to eat and cup of coffee on the way to work.
Although the new building has all the looks of Dunkin with the color scheme that is familiar to its fans, no opening date has been released as of yet.
Changes are coming on the other side of I-95 too. The Bed, Bath and Beyond chain is hurting financially so some stores are closing in the area. In Springfield, the store along Loisdale Road is closing, as is the one in Mount Vernon, said Holly Dougherty at the Mount Vernon Springfield Chamber of Commerce. 
According to a presentation on the "Today" show, the company recently announced plans to shutter another 150 stores nationwide including another store in Fairfax Towne Center.