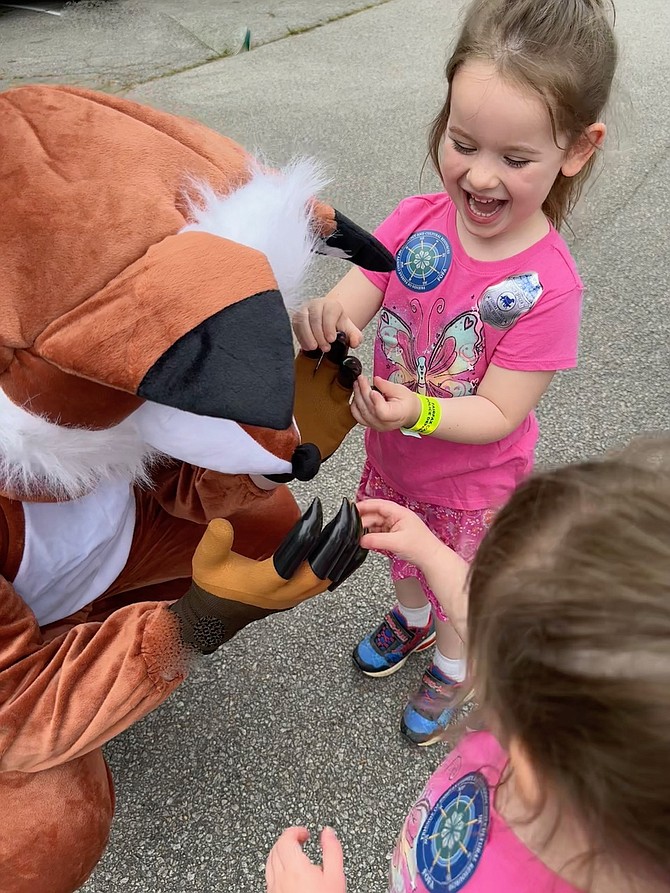 The Friends of Mason Neck State Park held their annual Eagle Festival on Saturday, May 13. The well-known festival again offered an abundant tribute to nature in a day filled with environmental organization displays, interactive exhibits, bird and critter shows, time paddling on the water, and live music. County, state and federal wildlife agencies, environmental and conservation organizations were well represented providing information on many parts of the natural world from seeds to trees, and birds to small mammals.
Approaching the main presentation tent, one could hear a loud voice saying "he's coiling around my neck." A quickened pace revealed that puppeteer, Caroline Seitz, of Kids Nature Shows LLC, was in the middle of introducing her young audience to snakes and some of their behavior. Although northern Virginia snakes include some climbers, human neck hugging is a problem only for Seitz, who also often experiences Grey Squirrels hiding on her head. Several young audience members revealed the squirrel's location and agreed that she had "messed up" Seitz hair. Not a problem since Seitz shared, "I like it that way." It was all in good fun and much appreciated by the young audience. 
Inside the visitor's center, a few spectacular birds of prey could be seen closer than it's possible to get to them in the wild. Hodor, a Great Horned owl, and Scarlet, a Barred owl, along with four other rehabilitated raptors from Liz Denison's Secret Garden Birds and Bees, were calm though surrounded by admirers. Smokey, a Screech owl with Matt Felperin of NOVA Parks, held up the small owl end of the size spectrum. The three owls are well known in the area, often visiting park events. Injuries sustained as adult birds, which would decrease their chance of survival in the wild, have lead to their extended lives as ambassadors of the bird world. 
One can't be sure if the owl's renowned keen hearing collected the musical notes of the Difficult Run String Band, playing outside in the morning hours, or the voices of Joe Chiocca and John David Coppola singing in the afternoon. We do know that the bands could be well heard by the human participants circulating between the exhibits outdoors. As hunger for learning turned to hunger for lunch, guests hit a variety of vendors for fair food classics like burgers, hot dogs and fries, plus empanadas, vegetarian treats and the ice cream truck, welcomed on a warm day. 
A new exhibitor this year was Covina Fairfax, contracted to turn Fairfax County residents' waste to energy. Processing approximately 3,000 tons per day of solid waste at their Lorton facility allows them to sell renewable energy enough to meet the needs of about 80,000 homes. Their process combusts solid waste, producing high heat, turning water to steam, which is sent to a turbine generator to produce electricity. The solid waste material is reduced to an inert ash that is only ten percent of its original volume, saving landfill space, as well as producing renewable energy in the process.
Friends president and long-time resident of Mason Neck, Hillary Clawson, explained that the Eagle Festival is celebrating its 25th year. Originally begun by Robert Hartwell, son of Elizabeth S. Hartwell, to honor his mother. She campaigned successfully against large-scale development on Mason Neck in order to preserve the peninsula and protect bird habitats here. The reserve in nearby Mason Neck State Park, managed by the U.S. Fish and Wildlife Service, was created in 1969. It was the first refuge created specifically to protect the Bald Eagle. It was renamed the Elizabeth Hartwell Mason Neck Wildlife Refuge through an act of Congress in 2006.
For more on the Friends group and their events, see https://friendsofmasonneckstateparkinc.wildapricot.org/