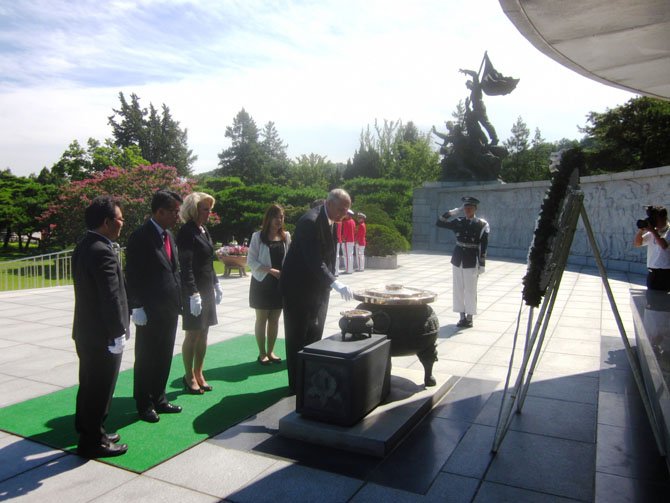 State Sen. Dave Marsden (D-37) participates in a wreath-laying ceremony at the Korean National Ceremony where the Korean War dead are buried. In August, Marsden and his wife, Julia, spent a week in South Korea as guests of the Government of the Republic of Korea. He was invited to discuss his sponsorship of the "East Sea" bill, and also to present a resolution from the Southern Legislative Conference encouraging trade development between the United States and Korea.

Stories this photo appears in:

Virginia legislators work with Korean American groups to push for "East Sea" in textbooks.
Virginia's gubernatorial candidates Ken Cuccinelli (R) and Terry McAuliffe (D) may be light years apart on most issues, but on one issue they've reached a consensus. Last month, they both pledged support to Virginia's growing population of Korean Americans to use the dual names of "East Sea" and "Sea of Japan" to denote the body of water between Korea and Japan in Virginia's textbooks. Koreans view the "Sea of Japan" designation as a legacy of Japanese colonial rule. Currently, more than 2.5 million Korean-Americans reside in the U.S. and nearly 150,000 of them live in Virginia. "As governor, going forward, I will wholeheartedly support the effort … to have our textbooks and other teaching materials reflect the concurrent names as we pursue education excellence in Virginia," Cuccinelli wrote in a Sept. 16 letter to the Korean Community of Virginia. "As governor, I will ensure that as new texts are purchased or downloaded, they reflect this important historical truth …," McAuliffe wrote to the Korean Community of Virginia on Sept. 25. For the past year, state Sen. Dave Marsden (D-37) has been leading Virginia's legislative efforts to add the "East Sea" in public school textbooks.