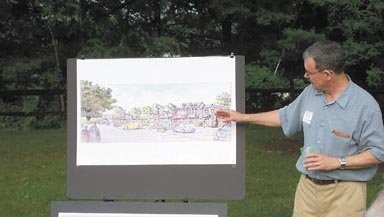 Guy Semmes displays a mockup of what the future of the Potomac Oak Center could look like with sewer service. Semmes and his business partner and brother-in-law Michael Denker held the final of four June meetings with residents to explain their proposal. Opponents worry that extending sewer service beyond the sewer envelope in Potomac and North Potomac would set a dangerous precedent and jeopardize the rural nature of the area.
Stories this photo appears in:
The balance between preservation and expansion defines many of the issues facing Potomac.
Bridge to Past, Glimpse of Future