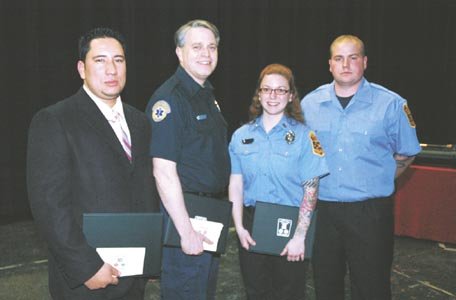 From left, Wilmar Sanchez, Ashburn Fire-Rescue; Ron Mecredy, Sterling Rescue; Becca Welsch, Sterling Fire; Dennis Andrews, Sterling Fire.
The Loudoun County Fire and Rescue System recognized 77 students who recently completed Fire Fighter I-II, Fire Fighter II, EMT-Basic and EMT-Enhanced certification programs, Tuesday, Feb. 17, in the Loudoun Valley High School auditorium with Deputy Chief Linda Hale hosting the graduation ceremony.
Ashburn Fire-Rescue graduates are Craig Damron,
Sean Simmons, Michael Skretta, Mark Toohey, Monique Hamm, Miguel Juarez, Matt Knarr, Susan Marston, Josh Mendel, Anita Rodriguez, Lucy Todd, Ryan Dumond, Ross Monroe, Rick Rumbarger and Wilmar Sanchez.
Stories this photo appears in: