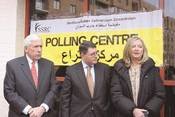 U.S. Rep. Frank R. Wolf (R-10) stands with U.S. Commission on International Religious Freedom (USCIRF) chairman Leonard Leo and commissioner Nina Shea.

Stories this photo appears in:

Southern Sudanese voters hope to make new future for war-torn nation.
Guot Juac, now slightly graying, was one of the Southern Sudanese who came to vote in Alexandria this week.