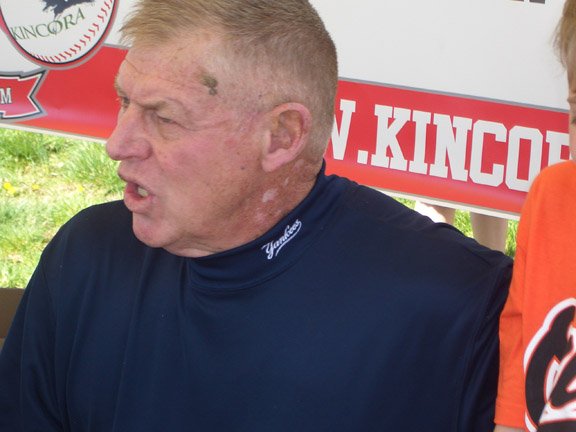 Frank Howard, shown here signing autographs at a Little League Opening Day in Northern Virginia, was one of the best power hitters in baseball as a member of the Washington Senators.
Stories this photo appears in:

With Opening Day here, its' fun to follow more than one major league team.
I did not grow up as a Reds' fan. In fact, Cincinnati's great Big Red Machine caused me great heartache when, as a 12-year old boy growing up in Northern Virginia, I watched on TV as my favorite team, the Red Sox, lost to Sparky Anderson's crew, 4-3, in Game 7 of the 1975 Fall Classic. I had been ecstatic after Carlton Fisk's 12th inning game-winning home run had given the 'Sox a 7-6 win in Game 6. But following the Game 7 loss, in which my favorite player, the great Carl Yastrzemski, flew out to end the game in the bottom of the ninth inning at Fenway Park, I was in tears – a broken kid.