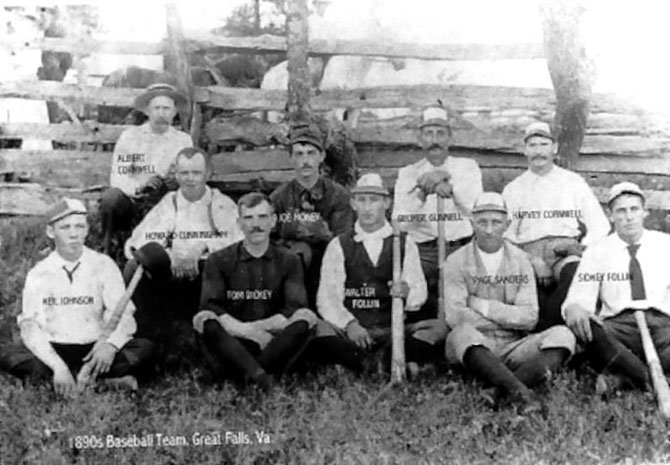 1890s Baseball Team, Great Falls. Front Row: Neal Johnson, Tom Dickey, Walter Follin, Page Sanders, Sidney Follin, Sr. Second Row: Howard Cunningham, Joe Money, George Gunnell, Harvey B. Cornwall. Last Row: Albert Cornwell
Stories this photo appears in:

Perspective from the president of the Great Falls Historical Society.
We have chosen to make our homes on a village of land where the footsteps of George Washington still echo. From the land close to Difficult Run Stream Valley (where the Colvin Run Mill now stands on Colvin Run Road) that he once owned and envisioned that a grain mill would stand, to the Powtomack (Potomac) Canal System at the foot of Seneca Road with its Lock system at Great Falls Park, which he envisioned as a transport system for farmers to move their grain down toward Alexandria for export, George Washington surveyed, knew the potential of, owned and invested in the development of important pieces of our specific place, now called Great Falls.