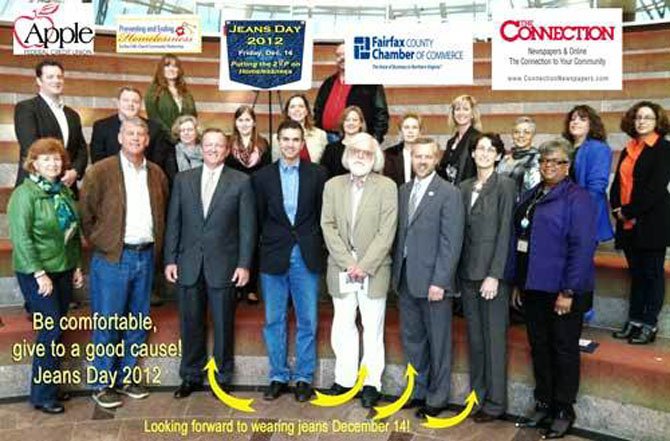 Front, from left: Patricia Stevens, executive director of OP3; Michael O'Reilly, chairman of governing board, Fairfax-Falls Church Community Partnership to Prevent and End Homelessness; Jim Corcoran, president, Fairfax Chamber of Commerce; Dean Klein, director, Office to Prevent and End Homelessness (OPEH); Bill MacMillan, COC lead manager, OPEH; Shannon Steene, executive director, Good Shepherd Housing and Family Service; Stephanie Berkowitz, VP of Supportive Family Service, Northern VA Family Service; Glynda Mayo Hall, partnership development manager, OPEH.
Second Row: Tom Barnett, program manager, OPEH; Mike Finkle, Family Housing and Homeless Services manager, OPEH; Julie Maltzman, COC manager, OPEH; Debbie Scaggs, Singles Housing/Hypothermia Prevention manager, OPEH; Jewell Mikula, executive director, Shelter House; Wendy Lemieux, communications specialist, OP3; Angie Carrera, partnership developer, OP3; Dianne Quebral, CSR program manager, OP3; VeeVee Coleman, Administrative Assistant, OPEH
Back Row : Nikki Thomas-Campbell, information systems manager, DAHS; Dixon Martin Bowman Systems.
Stories this photo appears in:

Fairfax County kicks off second annual Jeans Day on Dec. 14.
Everyone knows that gene therapy can help scientists treat a number of debilitating diseases, but what about human "jean" therapy?