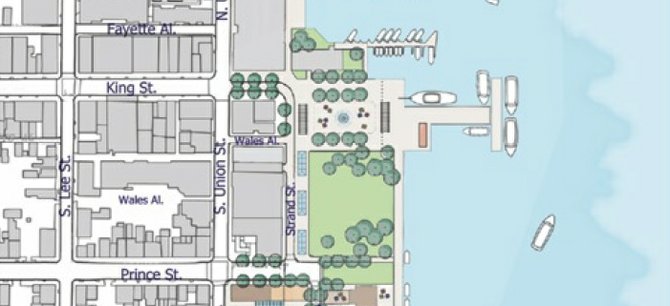 The Alexandria waterfront plan increases density from the existing 300,000 square feet of development to 800,000 square feet of redevelopment.
Stories this photo appears in:

Three separate lawsuits still moving forward as mayoral campaign heats up.
For those keeping score in the ongoing war over the Alexandria waterfront, opponents have scored one major victory and supporters have scored one major victory.

Rare lawsuit pits city officials against their own board.
What happens to members of city boards and commissions who get sued by the city government? It's an awkward question, one that Alexandria now faces in the Alexandria Circuit Court.

Three Alexandria residents and one Fairfax County resident brought suit questioning legal notice.
Alexandria officials met the minimum standard for notification of a public hearing on the waterfront plan, according to a ruling this week by Alexandria Circuit Court Chief Judge Lisa Kemler.