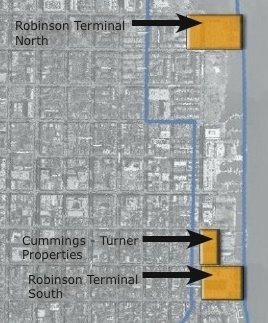 Much of the debate about the waterfront plan is driven by potential redevelopment at three sites on the waterfront.
Stories this photo appears in:

As challenges to small-area plan multiply, upzoning has been put on hold.
Think the waterfront plan passed? Think again.

Five Old Town residents file lawsuit asking court to overturn controversial upzoning.
Five Old Town residents are set to file a lawsuit this week challenging the controversial waterfront small-area plan, which the City Council adopted last week on a party-line five-to-two vote last month.

City Council poised to adopt controversial plan to increase density and allow hotels.
In the game of Monopoly, players that have four houses on each property in a color group can buy a hotel from the bank and plunk the red plastic piece down and start raking in cash.