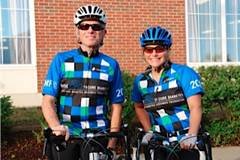 Ron Rapaport and daughter Lauren.
Stories this photo appears in:

Raising funds for research.
Lauren Rapaport has been battling juvenile diabetes for 33 years. Diagnosed at the age of 3, she has learned to regulate her insulin and check her blood sugar. She carefully balances her food intake with her exercise. It's life-long and 24/7 — a disease that has no cure — and one that she will never outgrow.