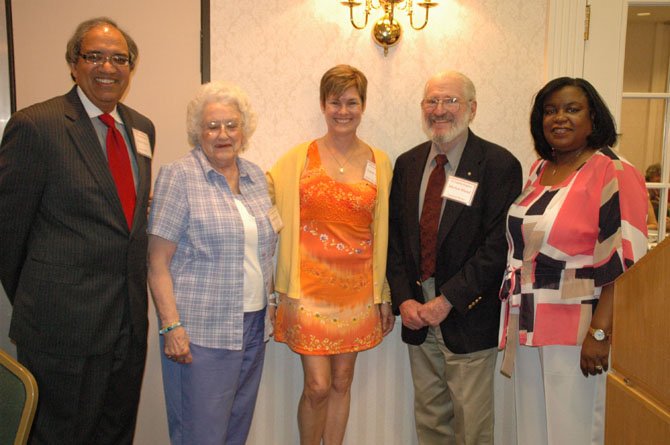 At the Leadership Recognition Luncheon on June 6 are, from left, Dinesh Tiwari, director of parks and recreation; Betty Hayes; Laura Lazour, division chief for parks and recreation; Dr. Merton Bland, and Cheryl Johnson, Office of Senior Adult Programs manager. The luncheon, organized annually by OSAP, also highlighted the installation of new officers of the Senior Adult Council. The 2012-2013 officers are chair, Jerilyn Andrews; co-chair, Vera Libeau; vice chair, Virginia Blake; secretary, Daena Kluegel, and treasurer, Milton Nelson. Johnson presented special awards to three volunteers who are "committed and dedicated stalwarts of senior programs:" Hayes from Culpepper Garden Senior Center, Bland from Langston-Brown Senior Center and Ken Milow, past chair of the Senior Adult Council and founding member of the Arlington Alliance for Senior Programs. For more information about OSAP and senior center programs, call 703-228-4744 or check the website at www.arlingtonva.us, click on 55+ Guide.
Stories this photo appears in:

"Flourishing After 55"
"Flourishing After 55" from Arlington's Office of Senior Adult Programs for Sept. 4-8.