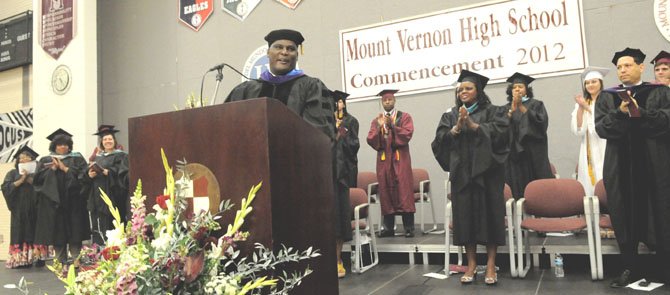 Commencement speaker, Col. Gregory D. Gadson, a bilateral above-the-knee amputee resulting from injuries sustained in a roadside bombing in the Iraq War, receives a standing ovation from the students and guests at the Mount Vernon High School 2012 Commencement Exercises on Friday afternoon, June 15 at the high school. Gadson said nothing made him prouder on this day than the perseverance of his graduating son, Jaelan. Gadson has served in the U.S. Army for more than 20 years as a field artillery officer and on active service for; Desert Shield/Desert Storm (Kuwait), Operation Joint Forge, Bosnia, Afghanistan and Operation Iraqi Freedom. While serving in the U.S. Army he has been awarded 3 Bronze Stars, a Purple Heart, Meritorious Service Medal and the Army Commendation Medal.

Stories this photo appears in:

Mount Vernon High School Graduation 2012.