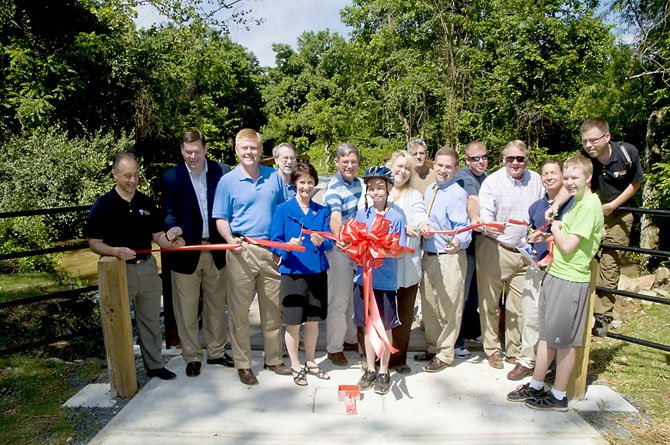 From left: Park Authority Board Member Tony Vellucci, Braddock District representative; Patrick Gloyd, executive director of the Burke Centre Conservancy; Braddock District Supervisor John Cook; Kevin Morse, Burke Centre resident; Sharon Bulova, Chairman of the Fairfax County Board of Supervisors; Joe Osborne, Burke Centre resident; Kala Quintana, at-large member, Park Authority Board; Kemp Skudin, trails enthusiast; Chris Wells, pedestrian program manager, FCDOT; Steven Pryun with the Avon Corporation; Mark Avon, president of the Avon Corporation; Marc Flaster, vice president Burke Centre Board of Trustees; and Project Manager Tom McFarland. Others, not identified in the photo, took part in the inaugural bicycle ride along the trail.
Stories this photo appears in:

Discover Burke VRE-Pohick Stream Valley Trail.
On June 2, the 20th anniversary of National Trails Day, local officials and community residents "took a hike" and officially opened the Pohick Stream Valley - Burke VRE Trail.