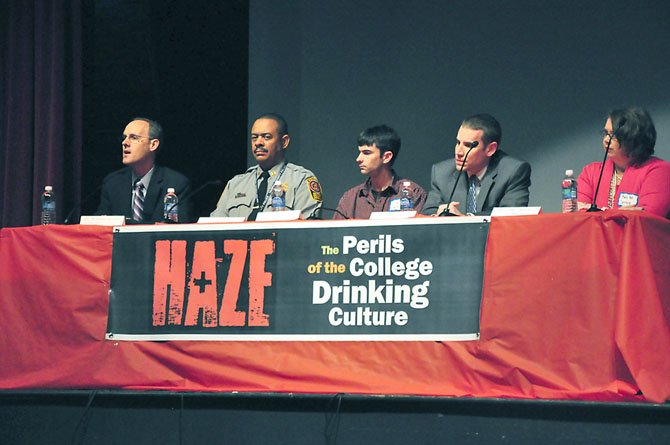 From left, Dr. William Hauda, an emergency room physician at INOVA Fairfax Hospital, Capt. Bruce Ferguson, commander of the Fairfax County Police Department's Youth Services Division, Ryan Smith, a graduate student at Virginia Tech, Casey Lingan of the Commonwealth's Attorney's office and Mary Ann Sprouse, director of Alcohol, Drug and Health Education at George Mason University address parents and students at Herndon High School Tuesday, April 24.
Stories this photo appears in:

Panel discussion, video highlight latest trends in teenage drinking.
Herndon High School hosted "The Perils of the College Drinking Culture" Tuesday, April 24, a forum discussing the consequences of alcohol use with students and parents in the community. The event, hosted by the Unified Prevention Coalition of Fairfax County, featured facts about the social, legal and physical consequences of alcohol use.