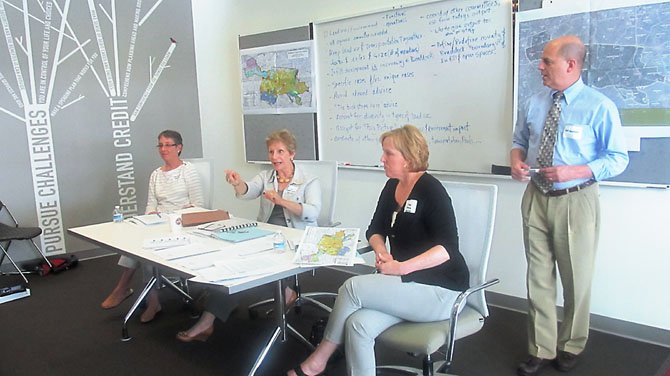 Jan Hedetniemi, (center) a Tysons Task Force member and Braddock district resident, led a discussion on land use and environmental management during the first Braddock District Citizen Governance Conference at Frost Achievement Finance Park on Saturday, May 5. She was joined by facilitators Jane Gwinn (left), a former county zoning administrator and Marlae Schnare (right), Supervisor Pat Herrity's land use aide. Bill Barfield, chair of the Braddock District Council (standing) volunteered to take notes.
Stories this photo appears in:

First Braddock 'Citizen Governance Conference' draws future decision-makers.
Sitting in a conference room discussing issues such as land use, aging and transportation may not seem like the perfect way to spend a sunny Saturday afternoon. But the opportunity to have a voice in the future of the Braddock district drew nearly 75 residents to the first Citizen Governance Conference, hosted by Supervisor John Cook (R-Braddock) at Frost Achievement Finance Park on May 5.