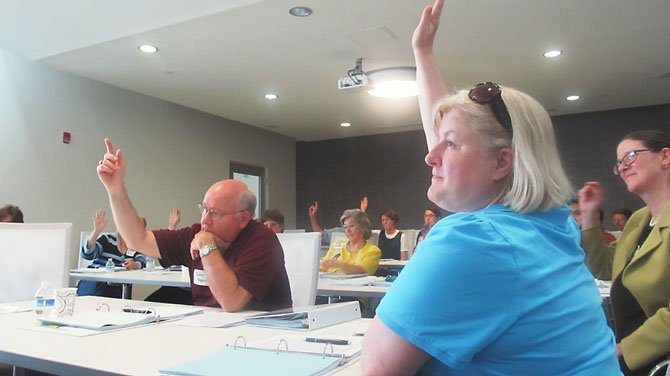 All in favor, say aye: Braddock residents John Rephlo and Edie Kasper raised their hands to signal their interest in serving on the newly-formed land use and environmental committee during the first Braddock District Citizen Governance Conference at Frost Achievement Finance Park on Saturday, May 5.
Stories this photo appears in:

First Braddock 'Citizen Governance Conference' draws future decision-makers.
Sitting in a conference room discussing issues such as land use, aging and transportation may not seem like the perfect way to spend a sunny Saturday afternoon. But the opportunity to have a voice in the future of the Braddock district drew nearly 75 residents to the first Citizen Governance Conference, hosted by Supervisor John Cook (R-Braddock) at Frost Achievement Finance Park on May 5.