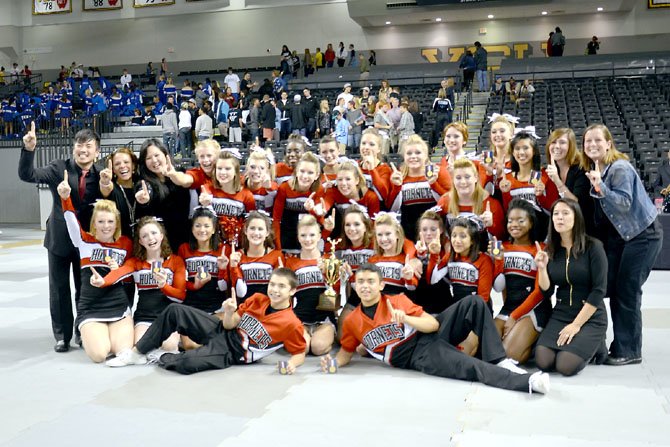 Herndon Varsity Co-Ed Cheer with the Virginia States Championship trophy. Back Row: Coach Deven Song, Coach Suzanne Mansfield, Coach Jenny Goff, Conlan Miller, Veronica Wood, Briana Heckard, Breana McPherson, Lexia Rowley, Lisa Sheffer, Bridget Nagy, Claire Barnes, Rebecca Valley, Margaret Schaaf, Macie Heuring, Shannon Kelley, Joanna Albert, Coach Anna Seymour, Coach Emma Collie. Middle Row: Zoe Langendorff, Marissa Foster, Bernadette Abadias, Alex Asack, Sarah Strangfeld, Kara Joyce, Hannah Moore, Meghan Henry, Inteha Hassan, Sheena Okai, Coach Hayden Little. Front Row: Alex Coffelt, Isaac Parada.

Stories this photo appears in:

Goff along with assistant coaches Emma Collie, Suzanne Mansfield, Deven Song, Anna Seymour and Hayden Little led Herndon to win three District Titles, one Regional Title, and the 2012 State Championships. Collie and Mansfield are also retiring this year.