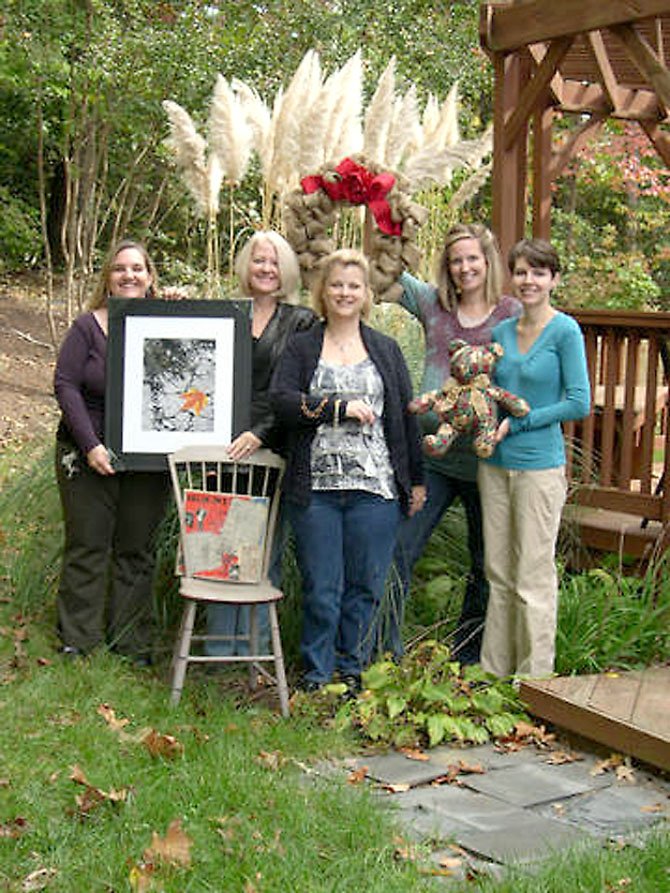 From left: Marian Cutler, mixed media collage; Sharon Salazar, furniture refinishing, painting and collage; Anne Brannam, jewelry; Kara Mann, handmade hair clips and wreaths; Lauren Williams, sewing-teddy bears and aprons, will participate in The Barn Sale without a Barn on Friday, Nov. 2 and Saturday, Nov. 3 in Springfield.
Stories this photo appears in:

Think "Upscale Tag Sale" of original art, vintage jewelry and everything in between.
A year ago, I read an article about this new phenomenon called "Barn Sales." These various groups of women in the suburbs of Maryland and Virginia would put all this beautiful antique and vintage furniture for sale in differently-styled vignettes. The kicker was that these vignettes were set up in different stalls of a barn. Each had a different look: Victorian here, retro there, Hollywood regency there, farmhouse chic there, with antiques throughout. As I watched all these people waiting in line eagerly to buy all these vintage and antique and "freshened" goodies, two things occurred to me. 1. The art I was making at the time would look amazing in this venue. 2. Between me and Sharon, we knew where to find or how to make almost everything in the show. On the way home I looked at her and said, "Sharon, let's have a barn sale this fall." and she said, "Where are we going to find a barn in Burke?" And we just decided we didn't need a barn. Hence the tag "Branches: the Barn Sale Without a Barn".