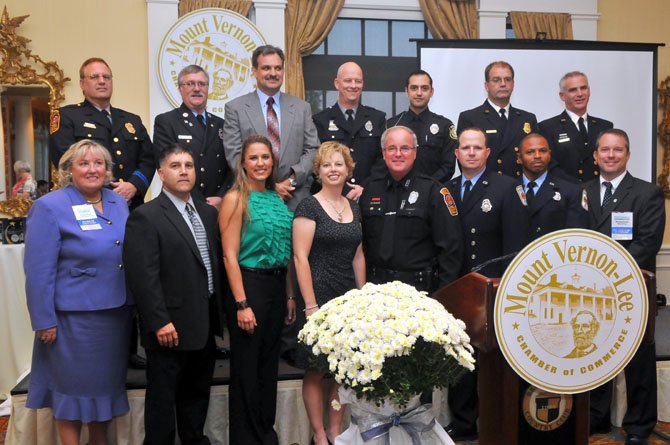 2012 Public Safety Personnel honorees: Franconia Police Station – Detective of the Year Monica A. Meeks, Police Officer of the Year PFC Brooke Wright, Auxiliary Police Officer Dan Wenger and Continuous Service Awardee 2nd Lt. Paul G. Cuzzolino; Mount Vernon Police Station – Detective of the Year David E. Koenigsberg, Police Office of the Year MPO Mark Yawomicky, Volunteer of the Year Woulter K. (Van) Vanderwal and Continuous Service Awardee MPO Greg Kotterman; Fort Belvoir Public Safety – Fort Belvoir Firefighter of the Year James T. Wade and Ft. Belvoir Police Officer of the Year Gregory Bush; Fairfax County Fire & Rescue Department – Volunteer Firefighter of the Year Capt. Deborah Volker, Continuous Service Awardee Technician Robert Hicks, Company Officer of the Year Capt. I Steve Norris, Firefighter of the Year Master Technician Cliff "Chip" Sweeney and EMT/Medic of the Year Capt. II James "Jamie" Lee. With the honorees are Chamber Chairman Michael Gailliot (Hilltop Golf Club) and President Barbara Doyle (Inova Mount Vernon Hospital).

Stories this photo appears in:

The Mount Vernon-Lee Chamber of Commerce honored public safety personnel at its 5th Annual Police and Firefighters Tribute held Friday evening, Sept. 21, at the Belle Haven Country Club.