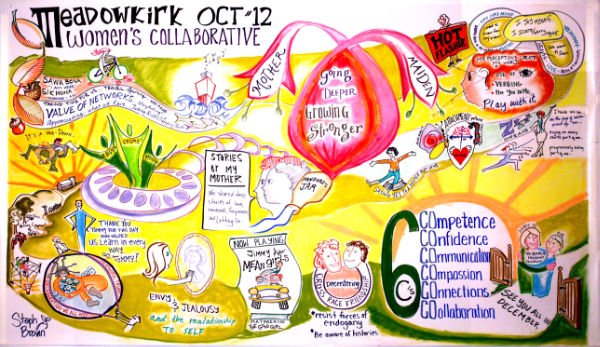 Susan Brown, who attended the 2012 Women's Collaborative program, created a mural of the group's experience, adding a bit each night as the women sat in the kitchen and continued their talks after-hours. As part of the program, each woman gives a presentation on one of her "brilliances." "And it is brilliant," said co-founder/facilitator Sue Ries Lamb. "All sorts of performances or activities. We constantly surprise each other and ourselves. It's our favorite part of the sessions."
Stories this photo appears in:
Mary Jo Smrekar of Reston and Sue Ries Lamb of Alexandria facilitate The Women's Collaborative.
"Join With Us in Discovery." That's the header on the invitation for the 2013 Women's Collaborative, a "journey of discovery" that takes place in three four-day sessions at Meadowkirk Retreat and Conference Center in Middleburg. The first session takes place Thursday, May 30, through Sunday, June 2; the second takes place in August; and the last is in October.