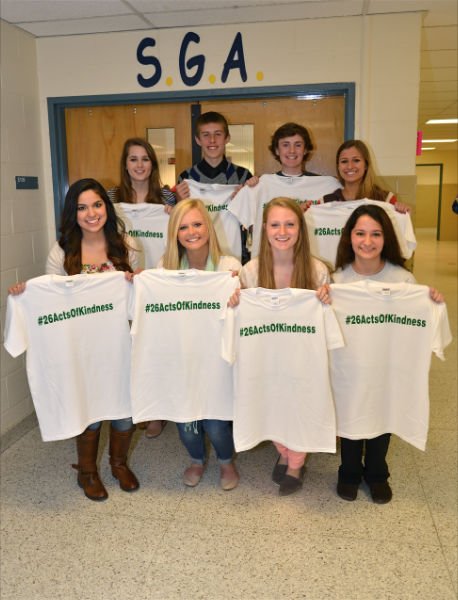 From left, back row—Autumn Guckert, a junior from Clifton, Will Rowson, a sophomore from Fairfax, RJ Holtzman, a sophomore from Clifton, Shannon Lopynski, a senior from Clifton. Front row—Melina Arriaza, a junior from Clifton, Jessie Bond, a senior from Fairfax Station, MegMarie Stanchi, a freshman from Burke, and Angela Vasquez, a junior from Fairfax, organized the 26 Acts of Kindness campaign at Robinson Secondary.
Stories this photo appears in:

The number 26 is in honor of the 20 students and six staffers killed during the Sandy Hook Elementary School shooting.
Even if only 10 percent of Robinson Secondary School's almost four thousand students accept the Student Government Association (SGA)'s 26 Acts of Kindness Challenge during the month of April, that would still mean 10,400 random acts of kindness and courtesy added to the world. Not a bad achievement.