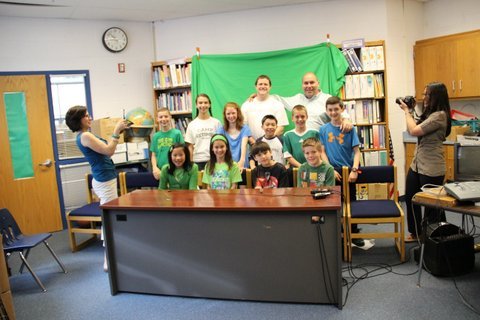 Churchill Road fourth, fifth and sixth graders had the opportunity to Skype nationally known eco-educator Stephen Ritz from the school's production room, while CRS eco educator Debra Maes (left) and parent Vivian Bendewald (right) captured the event on camera. Pictured, from left, are: (front row) Mia Hsu, Arielle Moore, Dylan Tschampel, Benjamin Higbee; (second row) Luke Voorhies, Lauren Cain, Cassie Reis, Ryker Bendewald, J.J. Bellaschi, Jake Yates; (back row) Technology Teacher Jordan Craig-Kuhn and Principal Don Hutzel.
Stories this photo appears in:
Churchill Road Elementary lived up to its Green Flag Award status by promoting a variety of eco-friendly programs and activities leading up to Earth Day.