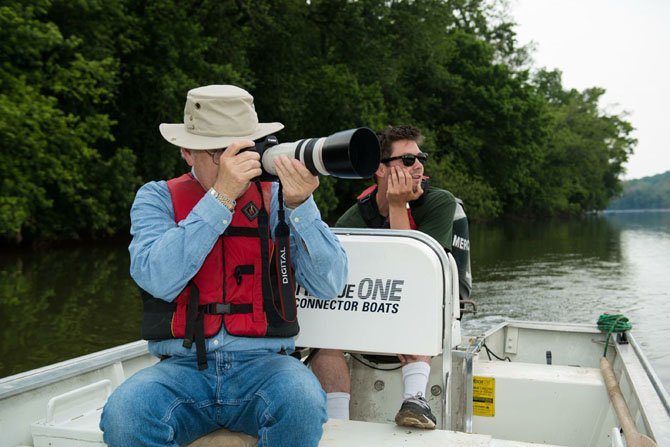 A local photographer and friend of mine, Dean Souleles, took this image which shows Ethan and I doing our thing on the river. When you go out in a boat numerous times with the same person you begin to get to know each other. Ethan is not only an experienced guide and boat handler but I consider him a good friend. For me these times together on the river were almost like therapy sessions as they reminded me of times 60 years ago when I would go fishing with my father.
Stories this photo appears in:

Whether a newcomer or an "oldcomer" like me, I urge everyone to explore Riverbend Park and the Potomac as it flows by Great Falls.
For the past several years I have been photographing the landscapes, landmarks and wildlife of this place we call Great Falls. During this period I have been to Riverbend Park numerous times with my camera, but in May 2012 I noticed a sign near the boat rental area that listed the rates for each type of craft such as canoes, kayaks and aluminum flat-bottomed jon boats.