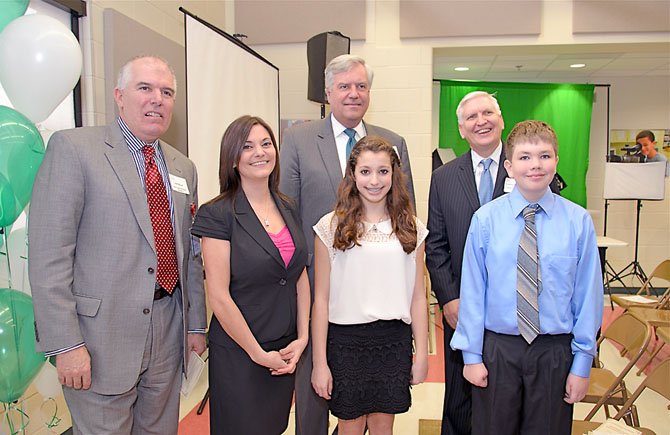 Jim Kacur, assistant superintendent cluster 2, Fairfax County Public Schools, Superintendent Dr. Jack Dale, and Deputy Superintendent Dr. Richard Moniuszko were among the attendees at the Learning Lab dedication. The three school district officials take a moment to congratulate Wolftrap ES Principal Teresa Khuluki and sixth grade students Leah DeFreitas and Will Hertzler, who both presented original works created for the ceremony.
Stories this photo appears in:

Candace Leyton Innovation Learning Lab opens at Wolftrap Elementary.
Talk about a lasting impression—and the impact that a great teacher can leave behind as her legacy. Chris Shumway didn't keep in touch with Candace Leyton, his third grade math teacher from Wolftrap Elementary School in Vienna, who passed away from breast cancer in 2003, but nearly 40 years later, Shumway was back at school to dedicate the Candace Leyton Innovation Learning Lab in honor of the woman whom he says "believed that I could be so much more."