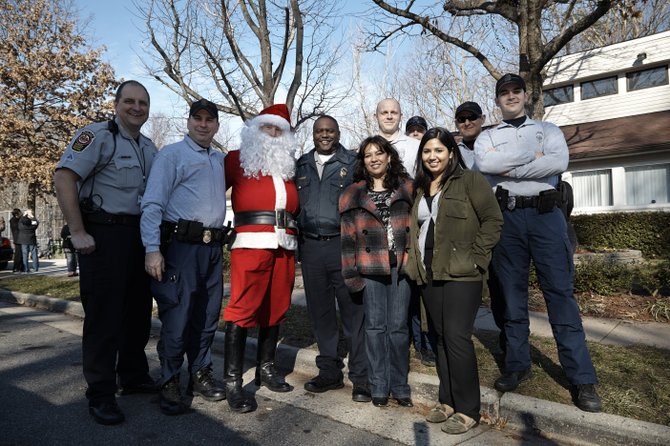 Santa and the West Springfield District Police Station joined with members of the Green Hills community on Saturday, Dec. 15, to share some holiday spirit and celebrate the progress the community has made with police help towards becoming safer after shootings and drug related occurrences over the past year. (From left, back row) MPO J.T. Frey, Lt. Jim Tanler, Santa (PFC Tom Champ), Captain Joe Hill, PFC Nate Vanhusen, PFC Rex Pagerie, PFC Rob Asencios, Ryan Quarto and two Green Hills community members.

Stories this photo appears in:

Supervisor Lt. James Tanler of the Neighborhood Patrol Unit, Crime Prevention Officer J.T. Frey and the Green Hills Estate Property Manager Claudia Lazo decided it was time to bring a little cheer to the Green Hills community in West Springfield after a year that held a shooting in an occupied home and other drug related activity in the neighborhood. The force and the Green Hills community celebrated their efforts and progress towards making the neighborhood safer with a visit from Santa.