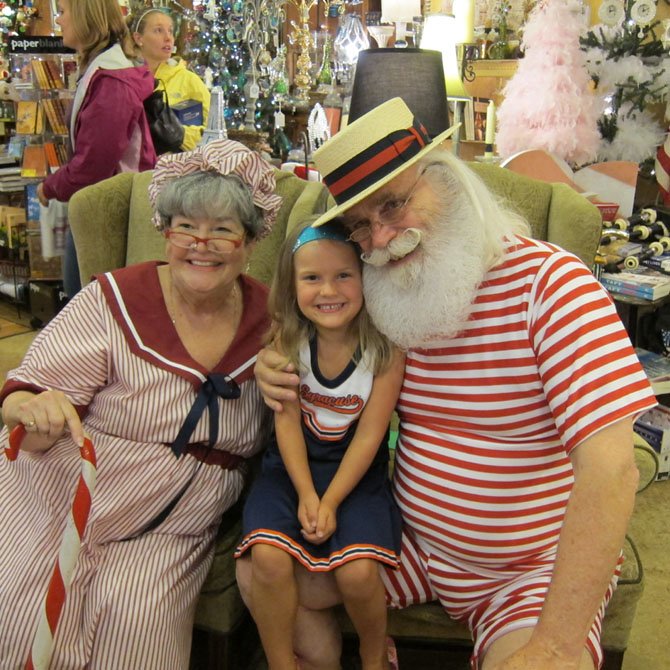 Christmas in July
The fourth annual Christmas in July celebration returns to Old Town, Saturday, July 20. Co-presented by The Christmas Attic and the businesses of Union Street, the event includes approximately 15 local retailers and community organizations that will be hosting activities either inside stores or on Union Street.
Events run all day and include a painting demo and designer trunk show at Coco Blanca, a designer sale and complimentary coffee and treats at Encore Consignment Boutique, story time at 3 p.m. and activities for children at the Firehook Bakery and Coffeehouse, 20 percent off gift items and complimentary gourmet tea tastings at Old Town Coffee, Tea & Spice, and a Canine Cruise with Santa hosted by the Potomac Riverboat Company from 10:30-11:30 a.m. Other events are pictures with Santa and Mrs. Claus from noon-4 p.m., giveaways, and children's activities at the Christmas Attic, a trunk show at the Lucky Knot, open art studies and a 2 p.m. story time at the Torpedo Factory, sales at the Virginia shop and the Zoe Boutique, and cookie decorating and holiday themed cocktails at the Union Street Public House. There will also be a 1 p.m. story time and sweat treats at Architectural Ceramics and three scoops of ice cream for $3 at Ben and Jerry's from, 4-7 p.m.
A portions of store sales will be donated to the local children's charity The Reading Connection. In addition, there will be musical entertainment on Union Street from 12- 4 p.m. The celebration will take place Union Street between Cameron and Duke streets in Old Town Alexandria. Visit www.christmasattic.com or call 703-548-2829.

Stories this photo appears in:
Summer Classes. Art at the Center, 2804 Sherwood Hall Lane. Children ages 6-10 can participate. Register at www.artatthecenter.org or 703-201-1250.