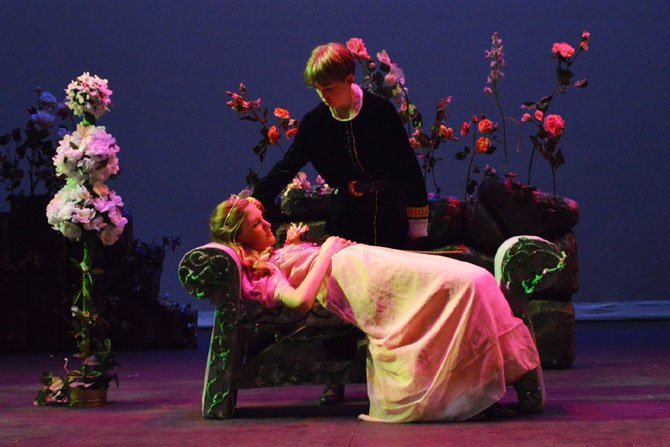 Prince Alexander (Topher Wagner) arrives to save Princess Briar Rose
(Maggie Keane).
Encore Stage & Studio Presents Sleeping Beauty
Sleeping Beauty, an amusing and playful presentation of the well-known fairytale, runs June 7-16 at Thomas Jefferson Community Theatre, at 125 S. Old Glebe Road Arlington.
When Princess Briar Rose is born, the King and Queen throw a celebration to welcome their new daughter. The whole kingdom is invited, save for one truly wicked witch. In revenge, Evilina sends the young Princess an unforgettable birthday gift-a sleeping spell which can only be broken by true love's kiss. Special pre-performance music will be provided by Prelude Youth Orchestra on June 8 and 9 at the 3 p.m. performances. Recommended for ages 4 and up. Performance Dates and Showtimes: Fridays, June 7 and 14 at 7:30 p.m. Saturdays, June 8 and 15 at 11 a.m. and 3 p.m. Sundays, June 9 and 16 at 11 a.m. and 3 p.m.
Tickets are on sale now and may be purchased at www.encorestage.org or call the box office 703-548-1154. Tickets for adults are $12; children, students and seniors are $10. Group discounts are available.
Stories this photo appears in:
Ongoing Food Truck Thursdays. In the surface parking lot at the corner of Crystal Drive and 18th Street.