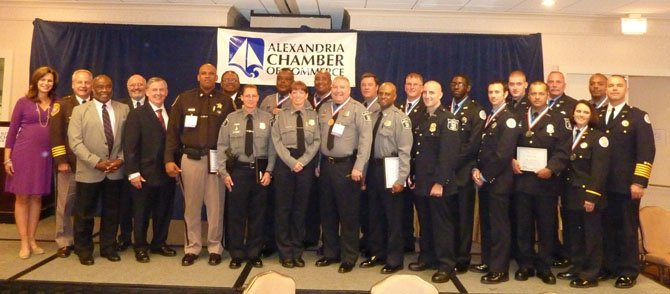 Police Chief Earl Cook, Sheriff Dana Lawhorne and Fire Chief Adam Thiel are joined onstage by Mayor Bill Euille, Chamber of Commerce CEO John Long, Chamber chairman John Renner and emcee Alison Starling for a photo with the 2013 Valor Awards honorees June 13 at the Crowne Plaza Hotel in Old Town.
Stories this photo appears in:
Laboy, Weismann among honorees for heroism.
The Alexandria Chamber of Commerce recognized first responders from the Alexandria Police Department, Fire Department and Office of the Sheriff at the 27th Annual Valor Awards held June 13 at the Crowne Plaza Hotel.