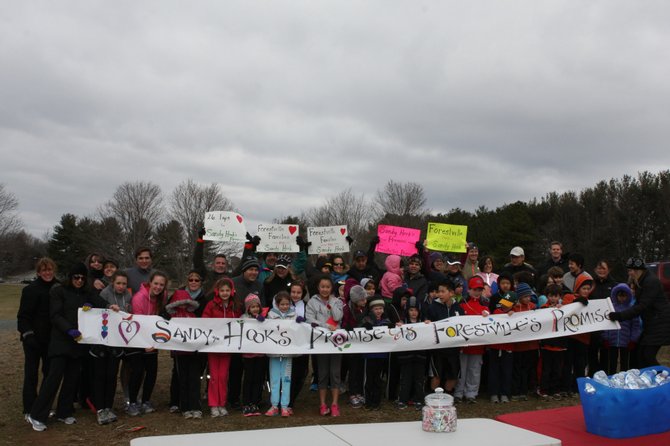 People came from Reston, Great Falls, Fairfax, Alexandria and Bethesda Sunday, March 3, to Lake Fairfax Park to run and walk 26 laps for each of the lost lives at Sandy Hook. First row, from left: Nina Paul, Sofi Blanco, Millie Blanco, Natalie Hutchinson, Bridget Crotty, Carly Hill, Faith Ann Finch, Erika Chung, Sydney Monserrate, Caden Southworth, Grady Gentile, Grant Kim, Grayson Miller, Emerson Miller, Ry Lindley, Cooper Girolamo, Nate Lindley, Harper Scruggs, Dawn Price.
Second row: Meg McGurn, Kim Finch, Maria Blanco, Juan Blanco, Leslie Hutchinson, Jonathan Hill, Cynthia Hill, Jennifer Gidwani, Hudson Gidwani, Ava Gidwani, Mahesh Gidwani, Emmery Gentine, Matt Gentile, Beth Colligan, Celia Dallas, Pheng Pan, Alex Yu, Lauren Thiell, Andrew Bolster, Liming Pan, Patricia Chung, Damon Griggs.
Third row: Martin McGurn, Glenn Finch, Chris Girolamo, Michelle Miller, Michael Southworth.
Stories this photo appears in:
The gray skies, frigid temperatures, and howling winds were not enough to deter 100 people from coming out to honor the Sandy Hook victims last Sunday, March 3, at Lake Fairfax Park as they ran and walked 26 laps for each of the lost lives.